Features Harvesting New Gear
Equipment spotlight: Brushcutting attachments in 2022
CFI takes a look at the newest forestry attachments for mulching Canadian fibre in 2022.
February 10, 2022 By CFI staff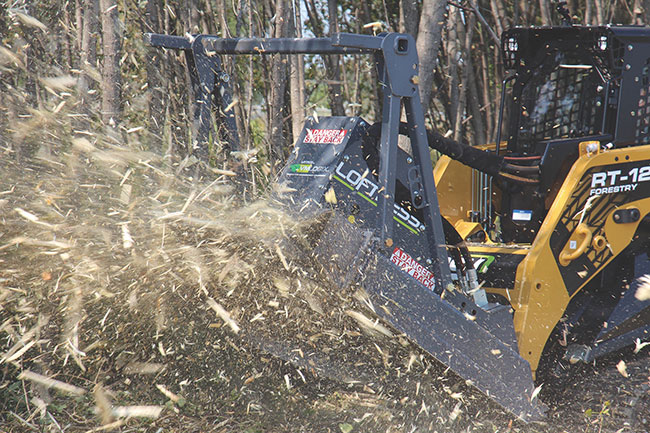 Loftness
Loftness has introduced its Bad Ax disc mulcher for skid steers, ideal for a wide range of applications, including land clearing, vegetation control, fire prevention and more. 
The Bad Ax includes a fully machined, 60-inch-diameter disc designed to cut trees up to 14 inches in diameter. Because the disc contains no welds, there are no areas subject to stress cracking. The disc is driven directly by the machine's hydraulic motor to apply 100 per cent of the power to the job at hand. 
The Bad Ax features a recutter bar along with counter teeth to hold material in place while it is being mulched. This exclusive design allows the unit to cut the material into finer particles than competitive products are capable of producing.
---
Diamond Mowers
Available in 60-, 72-, and 84-inch cutting widths, Diamond Mowers' Brush Cutter ProX excels at processing thick grass and brush. Ideal for vegetation management, maintaining fence lines, and large-scale brush clearing, it cuts four-inch continuously and materials up to 10-inch in diameter. This versatile attachment for skid-steers and compact track loaders boasts four hydraulic motor options and features Diamond's exclusive Tri-Hex Mulching Disc. Made of 50,000-PSI steel to provide greater inertia in harsh conditions, three hardened steel blades swing and break away around rocks to keep operators and bystanders safe while delivering the toughest blade retention in the industry.
---
FAE
FAE is expanding its line of forestry mulchers for excavators with Bite Limiter technology with the new BL5/EX/VT. This new head is perfect for handling and removing vegetation in wooded areas, especially for jobs that require a large shredding capacity and speed. The BL5/EX/VT can mulch logs up to 40 centimetres in diameter, works with 24- to 36-ton excavators, and has a working width of 160 centimetres. 
The BL5/EX/VT's best feature is the rotor with Bite Limiter technology. It has special wear-resistant steel profiles that limit the teeth's reach. This cuts down on power demand and promotes a consistent working speed, for excellent performance when mulching any kind of wood. Bite Limiter technology also minimizes rotor stalling and optimizes fuel consumption.
---
Baumalight
The heart of a brush mulcher system is the design of the rotor. On the Baumalight MS972 Brush Mulcher, the 900 Series rotor teeth are available in either double carbide tipped ripper or single blade planer style. The carbide ripper tooth is the good general-use tooth for mulching with significant ground contact. For applications with fewer stones, the planer tooth is a more efficient option.
A skidsteer brush mulcher is the most comfortable way for vegetation management, as your work is directly in front of you. Also equipped with a push bar, directional felling hook and optional two-speed motor, this heavy duty brush mulcher is sure to impress and meet customer needs.
---
Davco
The re-engineered Davco BC604-EVO Brushcutter has evolved to a lighter, economical and durable, three-blade brushcutter that is designed for 20-30 GPM Compact Track Loader and Skid Steer market. 
The new style disc has improved durability and is more economical than its hard-to-beat predecessor. The Davco industrial strength brushcutters are engineered, designed and built with efficiency, productivity, and, ultimately, the cost-per-acre-cleared in mind. 
Davco builds several models of industrial strength brush cutters for skid steers with low operating costs, low maintenance, ranging from a two-inch up to eight-inch cut.
---
SEPPI 
The Seppi combined tiller-mulcher Starsoil is one machine for more jobs. Specifically, stone crushing, wood mulching and soil tilling up to a depth of 40 centimetres. With two-speed powershift transmission for PTO-tractors up to 310 hp, the operator can easily switch from one rotor speed to another, from the tractor itself and with the machine running. 
In slow gear, at about 500 rpm, the machine is suitable for all soil works and stone crushing. In fast gear, at about 1500 rpm, it is suitable for surface mulching. Switching occurs through the tractor ISOBUS terminal. Even the temperatures are monitored by the control unit to promptly intervene in case of a malfunction in the cooling circuits. 
---
Tigercat
The Tigercat 760B is a 550-hp class mulcher carrier that shares major components with the field proven and similarly classed Tigercat 480B track driven mulcher as well as the popular M726G wheel driven mulcher. The 760B was designed primarily for silviculture applications. Forestry companies require the capability to efficiently clean up residual post-harvest forest debris and grind stumps to ground level. The 760B meets this requirement and the machine will also find application in large scale land clearing and ROW projects. 
Tigercat also designed a three-metre-wide mulching head to complement the newest carrier. The 4061-30 mulching head is based on the original Tigercat 2.5-metre 4061, with several updates and enhancements.
The 2.5-metre 4061 has been rebranded as the 4061-25 and includes the same enhancements as the larger head.
---
John Deere
John Deere updated its line of rotary cutter attachments with the RX72 and RX84. These models are designed for heavy-duty vegetation management applications, including property maintenance and right-of-way clearing. The rotary cutter attachments are compatible with 330G through 333G, and they are equipped with high-flow hydraulics and a severe-duty door. Features include three blades made of thick forged AR400 steel measuring 15.9 millimeters (0.625 inches), that provide an aggressive cut and long wear life. A pressure gauge is easily visible to monitor blade load for optimal cutter performance.
---
Bobcat
Handle tough brush-clearing jobs easily with the industry-leading Brushcat rotary cutter attachment designed and built for applications in construction, agriculture, municipalities, and parks-and-recreation departments. 
Using the powerful brush cutting action of the dual offset blades, the Brushcat rotary cutter mulches small branches and saplings and cuts through the thickest grass and brush. A lightweight, short deck and superior oscillation enable the brush cutter to follow ground contours to maintain a clean cut, even on slopes. 
Bobcat Brushcat rotary cutters are available in five cutting widths, with two models designed for use with Bobcat small articulated loaders and mini-track loaders.
---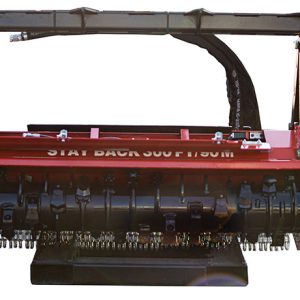 Fecon
Fecon introduces the RK6015, a wider mulcher head for use with most standard skid steer loaders, Avant-type wheel loaders, and other carriers that provide 17-27 gpm of hydraulic flow, have enclosed cabs that can be properly protected with the appropriate polycarbonate guarding, and have the ability to carry the 1490-pound attachment. 
A bite-limiting split ring rotor holds 26 knife or carbide-type cutting tools and has a 60-inch working width. Operating at 2400 rpm, it can easily shred brush and small trees up to five inches in diameter, making it an excellent tool for brush cutting and general vegetation management.
---
Denis Cimaf
Denis Cimaf specializes in the development of high-performance brushcutter-mulcher attachments. The company manufactures two main lines of products: the DAH series, industrial mulcher attachments for excavators; the DAF series, attachments for skid steers and other dedicated carriers. The company's patented mulcher head design has enabled them to become the mulcher head attachment of choice among intensive vegetation control, land clearing, roadside transmission lines, pipeline maintenance, and forest fire prevention contractors. 
Denis Cimaf was acquired by Morbark, LLC in December 2018. Manufacturing of Denis Cimaf mulching attachments moved to the Rayco Manufacturing facility in Wooster, Ohio, in early 2021.
---
Print this page