The newest felling heads and grapples available for Canadian loggers:
June 8, 2015 By Staff Report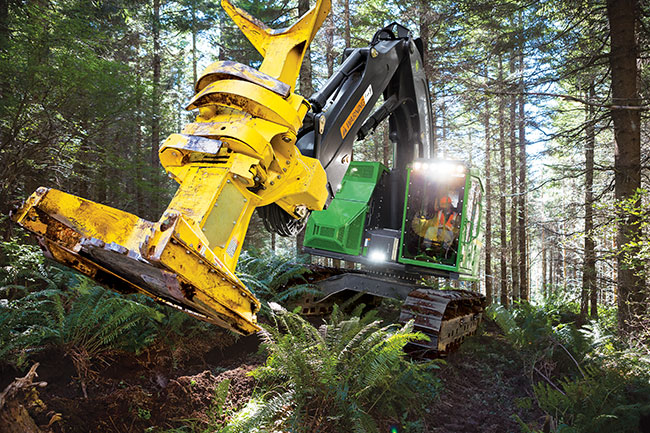 John Deere
John Deere's FR22B is compatible with the 803M, 853M, 859M, 903M, and 909M tracked feller bunchers. This head is designed to handle any harvesting operation from thinning to final cut of up to 559 mm in softwood or hardwoods. The FR22B features a high-rotation, bolt-on wrist, which allows a full 312 degrees of rotation. This high rotation capability gives operators optimal control, increasing productivity by reducing swing and travel cycles.
---
Risley
The high speed intermittent Rotosaw from Risley is built with high-strength steel and quality hydraulic components. Designed for selective or clear felling operations, it features a 90-degree tilt and up to a 30" disc. The high speed intermittent Rotosaw is designed to offer the user high production with minimal disturbance of the surrounding vegetation, increased fuel savings, reduction of fire hazard, and less hydraulic heat generated, since the saw only rotates when cutting.
---
Pierce Pacific
The PBS 3440 is designed to grab a tree before cutting to offer additional safety on steep slopes. It has upward of a 36" single-pass cutting capacity. The PBS 3440 also cuts a straight, square butt to eliminate extra steps with the processor. Additional features include reverse cutting and no recovery time, as well as minimal maintenance, less demand for handfallers, and low fuel consumption.
---
Komatsu
Komatsu's time-tested XA233-2 bar saw provides directional felling for large diameter stands, high-value hardwood, or wind thrown timber operations. It is rugged, yet lightweight (1,792 kg). The saw id designed to cut up to 711-mm diameter trees. Features include a 3/4" (19 mm) chain, auto chain lube and tensioning, optional accumulator for multi-stem operation. Options include a 30-degree lateral head tilt (15º left/right) and an optional hydraulic diverter valve to operate either the accumulator or lateral tilt utilizing oil flow from the top clamp arms.
---
Caterpillar Forest Products
The HF201B centre post felling head is designed for multi-stem applications and will cut trees as large as 572 mm (22.5 in.). It is available in partial and full lateral tilt configurations and features a one-piece saw disc with 57.2 mm (2.25 in.) of kerf. The proven tapered saw shaft and bearing design has sealed upper and lower bearing chambers that are individually lubricated and vented. The HF221 with a cutting capacity of 620 mm (24.4 in.) is also available.
---
Waratah
The new Waratah FL-85 Series 2 felling head gives increased durability with a heavier frame, includes a larger saw box design and improved heavy-duty guarding protection. Its features include 360-degree continuous rotation, hydraulic link-brake for improved control, and an upper–boom link system for providing simple installation on log loaders, excavators, and feller bunchers. It is designed to harvest steep slope timber, make fewer cuts on larger timber and minimize the need for manual hand falling.
---
Gilbert
Gilbert 3000L Series felling heads are available in 22-, 24- and 28-inch cutting size models, all equipped with a 350-degree high rotation wrist. With its new biomass type accumulator arms and wider throat opening, these heads are built for use in a wide variety of applications.
---
Quadco
C-series disc saw heads from Quadco feature a four-arm-up design with one cylinder and heavy-duty timing bar per set of arms. The patented 360-degree wrist system uses the company's double-reduction gearbox and two motors for maximum feller buncher versatility. The extreme service model "VI" designed for large West Coast timber uses twin pinions to reduce gear tooth loading and improve pinion life. It features a tilt bearing design using replaceable, wear-resistant steel plates hardened to maximum Rockwell rating to resist high axial and bending loads.
---
Tigercat
The Tigercat 5195 is a versatile high performance directional felling saw, excellent for felling, shovel-logging and bunching and is best suited to oversize timber and steep terrain. The Tigercat 5195 is extremely robust and well matched to the capabilities of the Tigercat S855C/S855D and LS855C/LS855D shovel loggers.
---
Southstar
The FD750 felling head is designed for the toughest falling environments, with an optimum operating size of 5" to 55" in diameter. This heavy-duty directional felling head is packed full of design and automation features, such as computer-controlled saw limiting, auto harvest mode, a production calculator, saw home sensing, and a reverse cutting feature. It has a 3/4" pitch Southstar saw system with 48" saw bar auto tension, saw home sensor with saw limiting, and powered back cut for less bar pinching and extended chain and bar life.
---
Hultdins
Hultdins grapples offer engineering design features such as a patented tapered sleeve pin design, sealed bushings with 1,000-hour greasing interval, cushioned cylinders, high strength robotic welded construction throughout, and arm geometry with wide tip-to-tip opening and minimum closing dimensions.
---
Rotobec
Rotobec log grapples feature an interlocking head structure for maximized durability and integrated cylinder guards on the jaw structure designed to offer additional protection in all handling applications. Each model comes standard with one of Rotobec's RT Series sealed rotators. A Rotobec grapple saw can be mounted to the HD and SHD series grapples for enhanced efficiency. The log grapples are available in standard, heavy, and super heavy-duty models.
---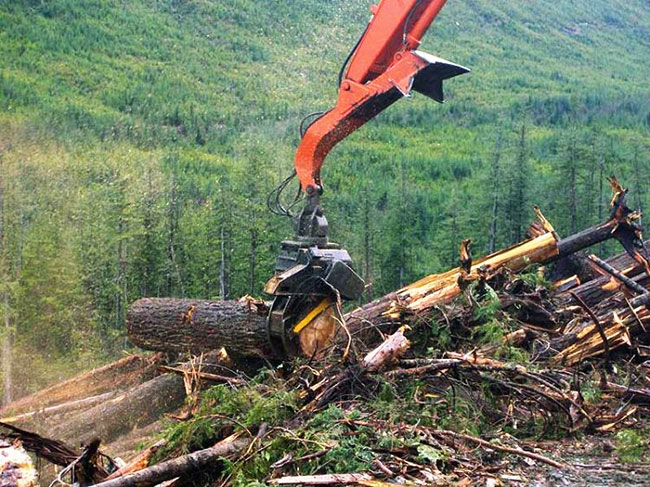 T-Mar Industries
The T-Mar Extreme Series grapple is built with QT100 plate construction and heavy-duty service cylinders with counter balance valves. Featuring easy access to cylinders and rotary swivel, the Extreme Series provides a trouble-free rotary swivel for heavy-duty applications. The grapple includes a large rotation motor with dual cross-port reliefs. It is available in 60"
and 70" sizes.
---
CWS
CWS' Power Grapples feature durable and versatile design with hardened and chromed pins and tool cylinder control with continuous 360-degree rotation. Power Grapples are built for maximum load capacities with exceptional handling speed and hydraulic power. Each model comes with easy-to-mount pin-on or quick-change connections. They are designed for most forestry applications and come in 20-ton, 25-ton and 30-ton models.
---
Gripen
Gripen grapples are designed for high productivity, are lightweight and feature a low profile, with twin hydraulic cylinders to improve operation. Both the standard and heavy-duty grapples are available in sizes from 0.25m2 to 1.0m2. The HD grapple uses thicker metal plating throughout and includes an oversized rotation plate.
---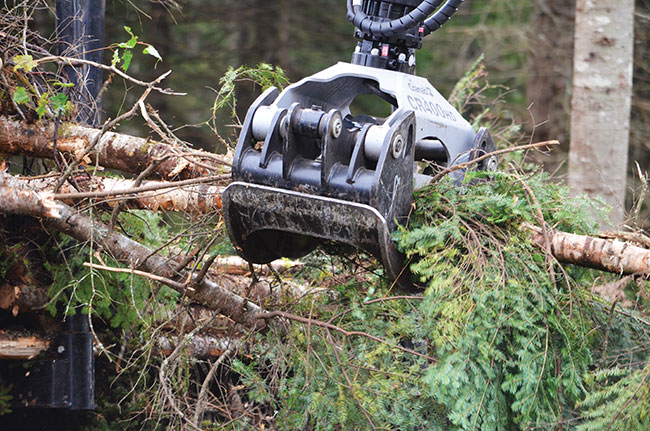 Cranab
The CR X Grapple incorporates a new tapered jaw profile designed to increase timber-handling performance, penetrate log piles, glide past obstacles and lift less debris from the forest floor. The tapered profile also offers operator visibility of the jaw tip enabling improved working performance of the grapple and crane.
---
Print this page