Sept. 27, 2016 - Thousands of loggers and manufacturers converged in Maple Ridge, B.C., for three days last week for DEMO International 2016, the thirteenth edition of the show, held every four years by the Canadian Woodlands Forum.

September 27, 2016 By Maria Church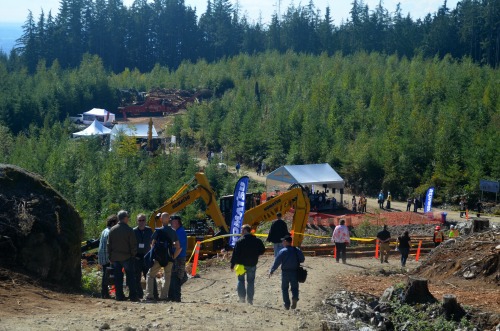 The biggest, smallest, strongest and fastest machines were on display from 130 exhibitors, dozens of which featured live equipment demonstrations of harvesters, skidders, mulchers and more.
The Faculty of Forestry at the University of British Columbia hosted the show at the UBC Malcolm Knapp Research Forest. A 3.4-kilometre loop road was built around rough, mountainous terrain, which allowed several exhibitors to showcase their steep slope equipment, ideally suited for the west coast market.
Many manufacturers launched their newest machine or attachment models, and some launched products available for the first time in Canada. Operator comfort seemed to be a common thread, with exhibitors touting new lighting, air conditioning and heating systems, larger cabs and windows and more comfortable seating.
Exhibitors featuring demonstrations of their steep slope technologies were a popular stop for show goers, and the steep terrain allowed the machines to be viewed in the environment for which they were designed. Among the exhibitors showcasing their steep slope options were John Deere, Ponsse, HSM, Volvo, and Caterpillar.
Canadian Forest Industries was at DEMO International 2016 and will be sharing exclusive video content over the next month, and additional content in our September/October issue of the magazine. Sign up for our enews to make sure you don't miss out!
---
RELATED: Tigercat Industries at DEMO 2016
Silvana Import Trading at DEMO 2016
Frontline Machinery at DEMO 2016
Ponsse at DEMO 2016 [part one]
Ponsse at DEMO 2016 [part two]
Plainsance Equipements at DEMO 2016
Klondike Lubricants at DEMO 2016
---
Print this page