New Gear Harvesting New Gear
Eastern Logger says 'Très Bon' to New Landrich Harvester
As Hervé Litalien maneuvers his company's new Landrich LR-HV limited tail-swing track harvester down a steep slope in northern New Brunswick, you immediately get a sense of the skill he has developed over the years operating heavy equipment, and in particular, large forest industry gear.
November 9, 2011 By Bill Tice
He tackles the unforgiving terrain like it is a paved four-lane highway, quickly covering the few hundred metres that will put him in a prime position for harvesting and processing cut-to-length logs for his company's customer – the JD Irving sawmills in nearby Kedgwick, NB and St. Leonard, NB.
"It's a pretty smooth ride and the cab is really large and comfortable," explains Hervé in his native French as he directs the harvester deep into the block. "We took delivery of the new machine just two months ago and we are really happy with it," he adds.
Hervé runs Litalien Entreprise et Fils (Litalien Enterprises and Sons, in English) with his two brothers, Stéphane and Éric. They started the company six years ago with their father, Gérard-Raymond Litalien. Today, Hervé explains their Dad has retired and left them to take care of the business. "He is still a shareholder and he keeps an eye on what we are doing, but for the most part he leaves it up to us," Hervé adds with a bit of smile that tells you Gerard-Raymond still offers his wisdom and opinion whenever he can.
Experienced Loggers
Although they have only owned their current business since 2004, the Litalien brothers are no strangers to the forest industry. Prior to starting the company, Gérard-Raymond had a mechanized wood slasher and all three of the boys grew up working in the Quebec woods. They still live in St. Francois d'Assise, Que., making the commute to work across the provincial boundary with New Brunswick on a weekly basis. They have a modified truck trailer they use for accommodation while away from home.
Keeping things small and simple has been a strategy that has paid off for the Litaliens. They have no employees, running the equipment themselves and handling all aspects of the business on their own. They are strictly a harvesting and processing contractor – cutting the wood, processing it, and moving it to roadside, where it is picked up by self loading logging trucks dispatched by the sawmills.
As for equipment, the company has the new Landrich harvester, which they took delivery of in July of this year, and a Ponsse Buffalo 14-tonne forwarder equipped with bogie axles and wide balloon tires. The only other main piece of equipment they have on hand is an international tuck with a trailer that is used to move the equipment between blocks. They normally run two shifts on the harvester and one shift on the forwarder, splitting the work-week evenly between the three of them.
"Staying small and focused works well for us," says Hervé. "We work well together, we all share in the ownership of the company, and we have business expenses to pay, so we are motivated to make our targets. It also helps that all three of us can run every piece of equipment we own, so we can switch up jobs whenever we need to in order to make our production levels."
Annually, the Litaliens harvest about 45,000 cubic metres of timber on average, all for JD Irving. On the current block, over 90% of the logs are softwood and 80% to 85% of those are saw logs that range in butt size from 6-in. to 15-in. Any 16-ft. and 12-ft. saw logs will go to the St. Leonard mill, while the shorter 8-ft. and 9-ft. saw logs will go to the Kedgwick mill.
Fuel Savings
Hervé says the Landrich harvester, which was designed and built by A. Landry Fabrication, is certainly helping in terms of productivity. That is especially the case in smaller timber such as what they are currently dealing with, as they can process more stems per hour than they could with other machines. But he says the big advantage they are realizing with the new machine is improved fuel efficiency.
"We save at least 100 litres per shift on our diesel fuel," explains Hervé. That ads up to savings of about $1,000 per week, and for a company our size, that has a huge impact on our bottom line. The price paid for harvesting wood is not going up, so if we can save money on our expenses, it really helps us out."

The Litaliens first saw the Landrich harvester in the fall of 2008 when another contractor was working with the prototype of the machine. The brothers liked what they saw and then when they lost their harvester to a fire in 2009, A.L.P.A., who is the local dealer for Landrich and numerous other manufacturers, including Ponsse, loaned them the prototype to finish the block they were working on.
"Having the prototype for a while really gave us a good chance to try the machine and to put it through its paces," Hervé explains. "The first thing we noticed was the reduced fuel costs, but we also really liked the huge cab, along with the excellent visibility, the hydraulic system, the Mercedes engine, the smoothness and quietness of the machine, and the design and build quality of the machine."
Decision Time
With a solid test of the Landrich harvester prototype under their belts, the Litaliens took the next step and agreed to buy Serial Number 2, which was a pre-production machine. "We were cautious because it was new to the market, but Landrich said they would stand behind the machine and support us, and we knew from our past history with A.L.P.A. that they would hold true to their word," Hervé notes. "Our Dad has worked with A.L.P.A. for years as he used to take his equipment to them for servicing, so we were comfortable that we would receive the support we needed."
The Landrich harvester also shares many parts with Ponsse machines and the Litaliens have been happy with their Ponsse forwarder. The fact that the two machines have compatible common parts was an added bonus as Hervé says that helps control costs when maintaining a spare parts inventory.
The harvester head on the Landrich machine is a Ponsse H7, which offers the latest technology for fast harvesting, improved end-product quality and an increase in the harvester head service life. It can handle trees up to 70-cm. (28-in.) in diameter and features automatic functions that control the saw motion according to the tree diameter and blade position, which improves cutting speed.
Ponsse also has a major presence inside the cab of the Landrich machine with the new Ponsse Optic 5 computer system front and centre. This technology handles all of the operations required for cutting, from data transfer to marking for bucking and reporting.
Power Plant
The Landrich LR-HV is powered by a Mercedes OM906 LA, Tier III engine, which produces 275 HP and 811 lbs-ft of torque. The engine is coupled with electronic control of three separate hydraulic system circuits with one pump on each circuit. That results in the harvesting head, the crane, and the machine's traction function each having a dedicated pump to supply the oil needed when the machine is "multifunctioning," improving productivity.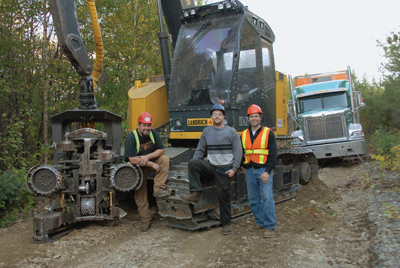 The undercarriage on the LR-HV has a maximum tractive force of 80,000 lbs. and a ground clearance of 711 mm (28-in.), while the rotation angle is a full 360 degrees (continuous rotation).
As for servicing, A. Landry designed the LR-HV with easy access to the engine compartment in mind. A hydraulic actuated clam-shell enclosure hinged at the rear of the machine opens up to provide a spacious work area, and while open, the enclosure doubles as a flat surface where the operator can stand while performing maintenance. That's something the Litaliens like, because outside of warranty issues and specialized repairs, they do most of their own maintenance and repair work.
Yves-Michel Thibeault, who is the Balmoral, NB-based director of engineering for A. Landry, played a key role in designing and producing the new harvester. He says they really thought about operator comfort and convenience when coming up with the machine's design and configuration.
"We were able to provide the large cab and the excellent visibility by configuring the main components differently," explains Thibeault. "The cab was brought forward, the booms were moved sideways, the engine was placed at the back, the fuel tank was positioned next to the booms, and the cooling circuits were separated (hydraulic oil cooler and radiator). The stability of the machine also helps deliver operator comfort. This comes from the low centre of gravity and the large footprint of the traction."
The original prototype the Litaliens tried out was equipped with a telescopic boom, which is still available as an option, but the newer machine delivered to them this year has a newly designed two piece rigid boom with a maximum reach of 10 metres. Thibeault says the newer boom is stronger and just as fast with less maintenance. "We have learned a lot from our prototype, which now has 6,000 hours on it, and we feel we are ready to go into full scale production next year," he says. "Our goal for this year is to finish and deliver machines number 4 and 5 that are almost completed, and then for 2011, our target is to produce eight machines, all at our assembly plant in Balmoral."
For the Litaliens, the extra effort that went into designing the machine is welcome. "A. Landry has done a great job with this machine," Hervé says. "They have thought it through, made changes based on what they learned from the prototype, and most of all, they are in tune with loggers like us, who are going to use the machine day-in and day-out."
---
Print this page