Product highlights from the 2022 BC Saw Filers Association convention trade show last week where filing room manufacturers showed off their latest wares and connected with old and new clients.
May 31, 2022 By Maria Church
Flow management system
Precision Machinery displayed its Precision Flow Management (PFM) system at the show. Lubricant naturally follows the path of least resistance, which results in the saws closest to the supply receiving more lubricant, while those furthest away often receive too little. The PFM system uses internal valves in each guide that balance the flow of lubricant throughout the guide stack. The result is that each saw receives an equal amount of lubricant. Watch a video explainer of the system here.
www.pgmr.ca
High performance canter head

New on the trade show floor, DK-Spec introduced its advanced high-performance canter head. The custom-designed head boasts more than 80 hours of uninterrupted production per knife side. Fewer components and replaceable wear parts allow for easy knife changes and minimal maintenance costs. DK-Spec went through an extensive R&D process to design a knife with high chip quality and increased capacity. They have 20 units in service to date.
www.dkspec.com
Read our coverage of the 2022 conference program here. 
Bandsaw profile grinder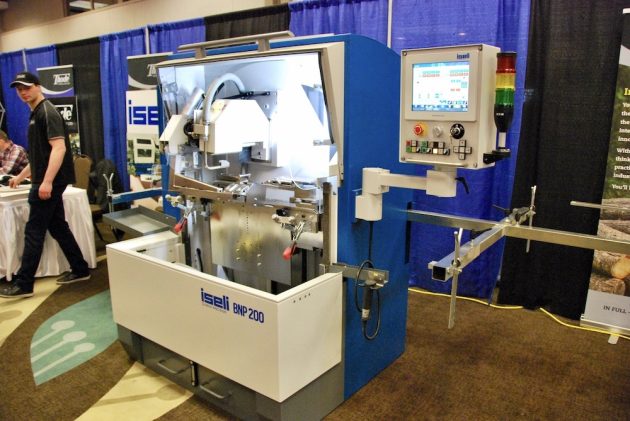 Thode Canada showed off an Iseli BNP200 bandsaw profile grinder. The fully automated machine is controlled with four CNC axes, with automatic loading of the blade. The machine positions the blade to a pre-set height and closes the blade clamp. The BNP200 automatically scans the teeth and determines the zero points before beginning the grinding process. The operator loads the blade and starts the machine with the push of a button. Watch our video of Thode Canada's Phillip Higgins outlining the machine.
www.thodecanada.ca
Guide lube solution

Supersaul Chemmex was at the show to talk about their guide lube solution for reduce sawing consumables for guided saw systems. Their latest hardware allows for any preferred lubricant, with design efficiencies built into it that not only save on daily and monthly consumables but also provide excellent sawing performance improvements. Saw box consumable savings are expected to be a minimum of a 25 per cent reduction.
www.supersaulchemmex.com
Hammerhead 3000

Williams & White brought their latest offering to the show, the Hammerhead 3000. The machine is an all-in-one bandsaw processing centre designed to automatically tension and level a band saw with ease. The machine features three high-precision sensors and an auto tracking system that lines up the saw blade automatically in the machine. Two feeder rolls and a double head system allows for independent tensioning and levelling operations. The Hammerhead 3000 includes a fence and light curtain – a safety feature that Williams & White's Riley Kufta says they are expecting to see more and more of in North American sawmills. Watch our video on the Hammerhead 3000 here.
www.williamsandwhite.com
New saw guides player

A new B.C.-based company introduced itself at the BC Saw Filers show. Ramtek, based in Burnaby, B.C., is offering CNC machined steel and aluminum saw guides with guaranteed accuracy within 0.00025". The company uses a Zeiss CDC co-ordinate measuring machine to test each guide, guaranteeing optimal performance and efficiency. They offer heil-coil inserts or threads, which provide extra protection against thread damage.
www.ramtek.ca
Company merger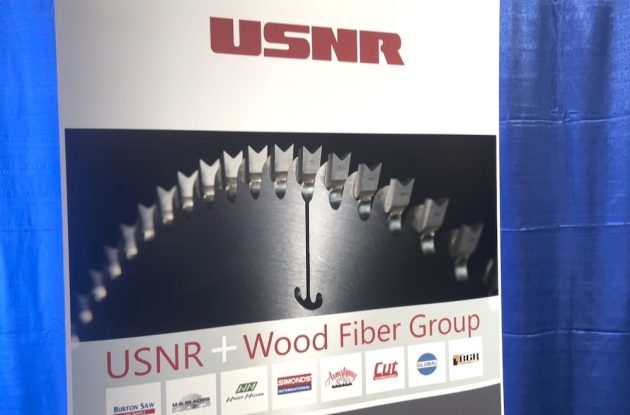 Wood Fiber Group's merger with USNR was top of mind for both companies at the sawfilers show. Wood Fiber Group's vice-president of marketing, Dave Purinton, said the combined experience gives customers the full spectrum of experience when it comes to diagnosing sawmill challenges and designing solutions. In March, the companies announced a combined leadership team, with Wood Fiber Group's Craig Tompkins taking up the role of CEO and USNR's Dale Brown named president. Wood Fiber Group also showed off their new 3D modelling service that can help customers visuals how new capital investments will physically and functionally fit into their work process. Watch a video of Purinton highlighting the merger here.
www.woodfibergroup.com
Automatic tip brazing

HMT Machine Tools Canada brought the Gerling Automation SawMaster automatic tip brazing machine to the show. The latest iteration of the SawMaster features a tip sorting system with a laser that measures the tips' profile for exact orientation. A sensor allows for removal of individual tips or complete removal of all tips. The brazing machine also includes an option for cutting and positioning of the silver solder shim and flux onto the tip which allows for the use of non pretinned tips. Watch a video of HMT Machine Tool's Brian Hass outlining the features of the machine.
www.hmtcanada.ca
Saw guide lubrication
Industrial Autolube International had a booth at the show and owner Dean Maier presented their solution during the conference program. The modular saw guide lubrication system optimizes the flow of oil and water. Controlled by a PLC, the system interfaces with the mill and includes alarms and an alarm history. Customers can dial in exact measurements of what they need to maintain saws, stabilize oil flow, and reduce water consumption. The result is often dryer sawdust and less saw flutter, which can amount to big savings.
www.autolube.ca
Low viscosity saw guide lubricant 

Petro-Canada Lubricants was at the show to talk about their PETROGLIDE ELV – a premium quality saw guide oil tested for multi-blade gang saws and edgers. It is an emulsifying low viscosity saw guide lubricant that helps to reduce deviation and improve on-spec board production. The emulsifiable formulation allows for better lubricity, which helps reduce wear and heat build-up for both saw guides and blades, minimizing saw deviation and maximizing recovery. That means fewer saw and guide changes, longer cutting cycles, less unscheduled maintenance and lower operating costs. The saw guide oil has a low pour point and wide temperature operating capability. A potent anti-rust additive keeps blades cleaner helping to increase saw and guide life and minimize wood losses. The oil is designed to emulsify with water for enhanced cooling efficiency.
www.lubricants.petro-canada.com
This article is part of CFI's 2022 File Week. Find the File Week landing page here.
---
Print this page