For David Peachey and his family, the forest industry has been more than just a way to earn a living. It has provided them with a great way to "give back," not just here at home, but also in Mexico, where David says the first time they visited, they "were overwhelmed by the poverty." Since then, they have committed to help in any way they can.
November 10, 2011 By Bill Tice
David, his wife Barb, and their 12 children live and work in Baytree, Alta., a rural community about 150 kilometres north west of Grande Prairie, Alta. and close to the border with North Eastern B.C. They have always been a forest industry family, with David growing up in the industry under the watchful eye of his Dad, Jesse Peachey, who moved to the region from Pennsylvania in 1959.
"Dad had a small sawmill and as kids, we just grew up working in it," David explains. "We did our own logging for the mill, and I found that I had more of a passion for that side of the business."

Start in Logging
In 1984, David got together with a partner and started hand falling and line skidding with a Caterpillar 518 skidder they purchased. He never really looked back, buying out his partner in 1986. In 1987, the family moved to Fort Nelson, B.C., where David ran a portable sawmill and bought a farm that included 100 acres of standing timber, which he later harvested, selling some of it off and processing some for custom applications and log homes.
"That investment provided us with the cash flow we needed to do what we are doing today, and in 1996, we moved back to Baytree where we operate a small sawmill with a headrig and a board edger," he says. "We originally built the mill from scrap materials for $15,000 and at first, it was powered by a 9030 Ford bidirectional tractor that would load the mill, unload the mill and power the mill. We have since upgraded to a 220 hp motor."
But the Peacheys haven't abandoned the logging side of the business and today, their son, Joseph, and his wife, Lori, run a logging business in the area with a Timberjack 618 feller buncher, a John Deere 648E skidder, and a Caterpillar 322 equipped with a Waratah Processing head. They harvest wood for David and other area sawmills. David Jr., who is the oldest of the Peacheys' 12 children, runs a trucking firm along with his wife, Sundae. He has a Kenworth self-loading log truck that is equipped with a Serco 160 loader. Like Joseph, he delivers wood to the family mill and to other area businesses. In addition to running the log truck, David Jr. and Sundae own and operate Silverstone Heating and Construction, which is a company that supplies outdoor wood fired boilers and solar powered heaters in the Peace Region of B.C. and Alberta.
The Peacheys' eight youngest children are too young to be on their own, but they do spend a little time helping out in the sawmill when they are old enough. However, David stresses they have the approval of both WorkSafe Alberta and the Social Services Ministry. "We home school the kids and they start working a few hours in the mill once they are 12," he says. "We feel it builds a tremendous work ethic in the kids and we make sure it doesn't take away from their school work."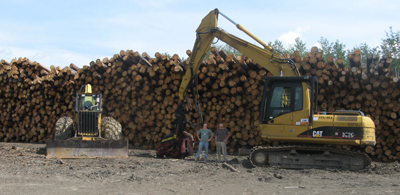 Giving Back
Although you can tell David loves the sawmill and working the land, he really lights up when talking about his other passion – giving back. "Barb and I have what we need, so we want to give back where we can," David explains. "We first went to Mexico a few years ago and we started working with Sergio Gomez, who is a local pastor in Tijuana, and Pete Sattler, who was a transplanted Australian and a Caterpillar parts man who unfortunately passed away recently."
Every second year, David and several of his teenage children, along with other volunteers, including Bruce Luney who lives in Fort Nelson, B.C., and was a colleague of Pete, head to Tijuana where they build six or seven houses for local needy families, fundraising for part of the cost, and taking some of the needed funds from their business.
But for David and Barb, there just might be bigger things on the horizon. "We are looking at a plant that will allow us to take any kind of waste and turn it into energy," he explains. "And if we are successful with it here at home, we want to take the profits and invest in a similar plant in Mexico where we could run it on waste that currently goes to the landfill. Not only would we be able to create jobs, helping people get out of poverty, it would clean up the landscape."
David has been working closely with Mark Porta, who is alternative energy manager at PrairieCoast Equipment in Grande Prairie. They are looking at purchasing a waste to power system from International Environmental Solutions in California and installing it in a shutdown fibreboard plant near Wanham, Alta. If the project gets the green light, they would initially use wood fibre waste from David's sawmill as the raw material.
"We realize there are many hurdles ahead of us and sometimes, I just want to go and saw lumber," David says. "But, we also see so much potential to help out people that really need it and that is the driving factor. With the people we have involved already and with my kids willing to jump in and help, we feel we have a tremendous team."
---
Print this page