Running a hardwood sawmill in central Nova Scotia already makes you something of an exception, so it's no surprise that some of Groupe Savoie's logging contractors do things their own way too. Savoie's main operations are back at its sprawling head office operations in Saint Quentin, in northern NB. There the private company turns the area's hardwoods into everything from pallets and furniture components to lumber, chips and bioenergy.
November 21, 2011 By Scott Jamieson
Further south in Westville, NS, Savoie runs a lone hardwood sawmill, an operation with its own challenges. Chief among them is trying to capitalize on an underutilized hardwood resource in a softwood-crazy province. The mill relies on small private purchase wood, industrial purchase wood, about 5% Crown purchase wood, and private stumpage lots to feed the mill. Still, it has been an uphill battle, with log shortages and resulting mill downtime playing havoc with mill productivity and profitability. While the mill needs over 100,000 m3 of primarily maple and birch to run two shifts, five days a week, woodlands manager John Vautour says that last year it managed to bring in only 45,000 m3, running single shifts or not at all. That's still over half the hardwood sawlogs cut in Nova Scotia per year, Vautour notes, but not as much as there could be with a value-driven philosophy.
"We're 95% + purchase wood here, and even on the Crown land there's not the same understanding of the value of hardwood sawlogs like you see near our operations in New Brunswick," Vautour explains at the mill site. "We've worked hard to change attitudes among landowners, other industrial users, and government, but for now we just get what we get, when we get it."
What they do get comes from a mix of select cut, patch cut, and clear cut operations, although select cut is increasingly the preferred choice on the company's private and industrial stumpage land. As well, it is a prescription that Vautour, and woodlands supervisor Glenn Baker, discuss with private landowners.
Looking Good
It's also an option that pleases up-and-coming mechanized hardwood logger Clem De Young. The cut-to-length contractor specifically opted for gear that can do it all, from softwood to hardwood clearcut, but he told CFI last fall that he's most at home winding his way through a hardwood select cut. Clem is a seasoned hardwood select cutter, and a production softwood logger before that, but in both cases ran a power saw crew for the cutting work. He only moved into mechanical logging last spring, when he found he was spending too much time supervising his hardwood cuts to make sure the job was being done to his satisfaction.
"I thought it'd just be better if I did 100% of the cutting on a processor, making sure the selection was done properly, the right products were made to get the full grade – it's not an obvious job. It can make for some long days to get the production I need on one long shift, but for now I don't see another way."

Job satisfaction and pride clearly play a major role, all evident as Groupe Savoie supervisor Glenn Baker, Clem and I stroll through the current hardwood job site. Clem uses a tracked John Deere 753G harvester with a Waratah HTH616 head at the end of a telescopic boom to do the harvesting, while a 6WD John Deere 1010D forwarder brings the sorts to roadside. Some might find the HTH616 on the small side for handling hardwoods, but Clem had two good reasons for the choice – size and weight.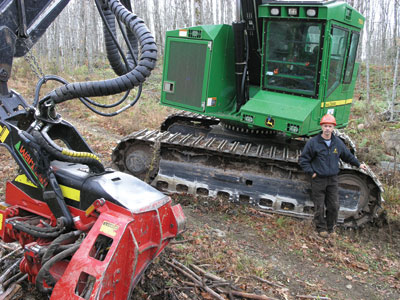 The HTH616 is based on Waratah's rugged New Zealand design, originally made for radiata pine. Yet it weighs just 1,550 kg, allowing Clem to put it at the end of a long squirt boom. "It'll handle all the hardwood I see around here, mostly maple with some yellow birch and ash, but because I can use it on that boom, I have 32′ 7″ of reach, which means I'm not travelling all over the site to take out the trees I want. It gives me a lot of flexibility in tree selection."
The size is also a bonus, since the head's relatively narrow profile (16 inches narrower than the popular HTH624) lets Clem manage tree selection criteria for forestry reasons, rather than to suit equipment limitations.
"It's not as wide as some of the heads I looked at, so if I've got two trees almost touching, one a crop tree, the other not, I can take the tree out without more than scratching the other. It does a nice job," Clem adds, pointing out several examples of this fine touch as we continue through the stand.
Clem bought the system in May 2007, and had over 1,200 single-shifted hours on the harvester when CFI dropped by in early November. He was doing a select cut in a rolling hardwood stand about 30 minutes from Groupe Savoie's mill. The land belongs to forestland investor and manager Wagner Forest NS Ltd., a company with an eye on both current revenue and the long-term value of the forest, Clem says. Unlike similar jobs in other hardwood jurisdictions like Quebec, Clem chooses his own trees as he winds his way carefully through the stand. He sees this flexibility as key to making the mechanical system work for all players.
"If you're relying on someone else to mark the trees, they won't fully understand the limitations of the machine, or the terrain – where we can go safely without doing damage, where we can't, or the reach. I think you'll end up doing more damage, with less productivity, by being forced to follow a pre-set path. As long as you have the hardwood experience, and choose your trees responsibly and with the future forest in mind, then this is the way to go. In a stand like this, I try to leave the quality and take the trees that are damaged or won't likely make it to the next cut."
There is plenty of both on this site, as a manual select cut done some 40 years ago left more than a few scarred trees, each a reminder to Clem of why careful harvesting and
forwarding is so important. Scars that at the time seemed insignificant now leave Clem with plenty of cull and lost production.
"You can see it as you work, and it often makes that first butt log useless," Clem notes, pointing out standing trees with large gaps just above the roots, and stumps with more than half the area rotten. "That's the kind of thing we're trying to spare the next guy that comes in here 25 or 40 years from now."
Uptime Challenge
Savoie's Glenn Baker monitors such sites to ensure quality where his company is involved, but admits his job is made easier by Clem's experience, attitude, and love of the woods.
"Clem's a very sincere guy, very interested in doing the right thing for the forest," he says as we drive out to the logging site through small-town Nova Scotia. "He has done selection management cuts with power saws that qualified for silviculture credits (Ed Note – A provincial forest management incentive program to promote progressive silviculture on private land, from tree planting and PCT to commercial thinning and select cutting). Once he got the harvester, he has been keen on doing the same."
As for the products removed, Glenn has his own way of motivating Clem, and other hardwood loggers that work for Groupe Savoie.
"When it comes to hardwoods, I really believe in paying a logger a percentage of the value of the logs he puts on the truck, rather than a volume rate," Glenn says, echoing a sentiment rarely heard in softwood circles. "The sorting and bucking decisions are so important, it has to be reflected in the rates. We also pay extra for pallet wood sorted out correctly, as we do separate runs at the mill, and so it saves us sorting and scaling costs there."
The company targets a 16 to 22m2/ha basal area when the cut is done, which typically results in a 30 to 40% volume removal rate. On the Wagner land we visited, with the higher rate of damage from the old harvest, the removal rate was closer to 40% than 30%, but the resulting forest was nonetheless pleasant to walk through only hours after the harvest. The ground here is rough, with plenty of rocky bluffs, steep drops, and holes to trap a machine or limit its movement. Still, looking back over the whole scene, Clem's done a good job getting the volume out, with little evidence of top damage, and almost no new scarring at all. As for the ground, a thick brush mat ensures very little evidence of machine travel.
There's no doubt both logger and machine can do the job, so moving forward, Clem's biggest challenge will likely be creating a support network to maximize machine uptime. On the day we dropped in, the harvester was down a while as Clem waited for a hose.
"I'm still getting used to the parts I'll need to have on hand, but we'll get there," he notes as we look over the head's design. No doubt a thoughtfully stocked parts and service trailer and a well-oiled inventory control system would be a big help in keeping Clem in the operator's seat. And it's a place he likes just fine. Whether looking ahead at the job remaining, or in the rear view mirror at the work already done, he likes the new view.
"I've been doing it for 31 years straight, so I've got a good appreciation for the woods. I was just like everyone else around here starting out, and the first 25 years was mostly in the softwood production environment. But I prefer this sort of work. It takes more skill and experience, but as a result, it's much more rewarding when you're done. And it looks really good when you're finished, if you've done it right," he concludes, waving his hand across the forest all around us.
---
Print this page