Industry News Markets
Lumber prices up somewhat, US November housing supply shrinks further
January 28, 2020 By Madison's Lumber Reporter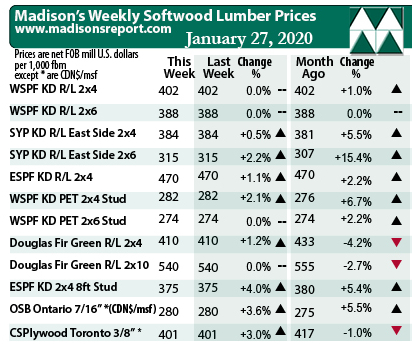 While benchmark construction framing softwood lumber commodity Western Spruce-Pine-Fir 2×4 held firm last week, prices of a lot of other dimension lumber items did pop up somewhat. The lumber supply-demand balance across North America is currently quite good, if not a little in favour of producers. Harsh weather in several regions, especially in Canada, over the past couple of weeks created some problems in transportation; more with getting lumber out to customers than with bringing logs into sawmill yards. Despite this, most players are looking forward to a busy spring as customer inquiry – if not actual purchasing – continues unabated daily. The latest U.S. housing data, for home sales and prices in November, shows a shrinking supply with house prices rising sharply in many U.S. cities.
By far the largest consumer of Canadian and U.S. solid wood products is the U.S. housing market. As everyone knows, when that crashed miserably in 2008 the North American sawmilling industry suffered horribly. Indeed, some could say has still not fully recovered. Historically, 80 to 85 per cent of all Canadian wood was sold into the U.S.; following the U.S. housing crash that figure is now closer to 65 per cent. As well, the mix of wood products being ordered by U.S. customers has changed; as the home construction market shifts to a higher ratio of multi-family housing. Where single-family starts used to be king, now apartments and condos make up a higher percentage of total home building. This is a much more volatile data set than is single-family starts, with volume fluctuations of 15 per cent between months being quite common.
Steady sales prevailed last week as lumber buyers continued to fill holes in their inventories. – Madison's Lumber Reporter
It is important to note that different softwood lumber commodities are used in multi-family construction, compared to the benchmark items used for single-family. For example; building codes require more 2×6 sizes than 2×4, in studs as well as dimension, and also 10' lengths are required (to accommodate the higher ceilings). Madison's has been tracking this shift closely since it became apparent in the US house-for-sale and house-price data last year. Check back often: lumber prices come out every week for that week, housing data comes out monthly for 2 or 3 months ago. Thus lumber prices could be an excellent forward indicator of US housing market conditions.
In week ending January 23, 2020, benchmark North American construction framing lumber item Western Spruce-Pine-Fir KD 2×4 #2&Btr (RL) prices remained at US$402 mfbm, again unchanged from the previous week. This week's price is +$4, or +1%, more than it was one month ago. Compared to one year ago, this price is up by a smaller degree than recent weeks, by +$56, or +16%.
Be ahead of these data releases … Don't delay, this week's softwood lumber market comment was published to the website Monday morning.
* Madison's Lumber Prices, weekly, are a good forecast indicator of US home builder's current lumber buying activity.
Purveyors of Western Spruce-Pine-Fir commodities in the United States had few complaints last week as consistent downstream demand kept both primary and secondary suppliers busy from Monday to Friday. Producers noted that their on-ground lumber supply was getting tighter by the day in both dimension and studs. Field inventories at sawmills remained low across the board. – Madison's Lumber Reporter
Compared to historical trend, last week's WSPF 2×4 #2&Btr price rise moderated somewhat, still up +$27, or +7%, relative to the 1-year rolling average price of US$375 mfbm, but are down -$32, or -7.4%, relative to the 2-year rolling average price of US$434 mfbm. This week's price is up +$27, or +7% relative to the 5-year rolling average price of US$375 mfbm.
The below table is a comparison of recent highs, in June 2018, and current January 2020 benchmark dimension softwood lumber 2×4 prices compared to historical highs of 2004/05 and compared to recent lows of Sept 2015:
---
Print this page