Industry News Markets
Panel prices increase somewhat, lumber flat
March 24, 2021 By Madison's Lumber Reporter
Potentially signalling a plateau in lumber prices, at least for the time being, benchmark softwood lumber commodity items stayed flat again last week while plywood prices lost almost all the gains of the previous week. However, supply remained incredibly tight as customers still had to search around for the specific items they wanted at prices that didn't make them balk. Many players consider this a temporary lull, due to recent harsh winter weather across most of North America. As temperatures move toward spring balmy conditions, expectations are that building activity in Canada and the U.S. will ramp up to the frenzy seen last year.
Reversing increases of the previous week by half, prices of benchmark panel item Canadian Softwood Plywood Toronto 9.5 mm dropped back -C$55, or -4.4%, to C$1,250 msf from C$1,303 the previous week. This item is now +C$288, or +29%, higher than one month ago when it was C$989 msf.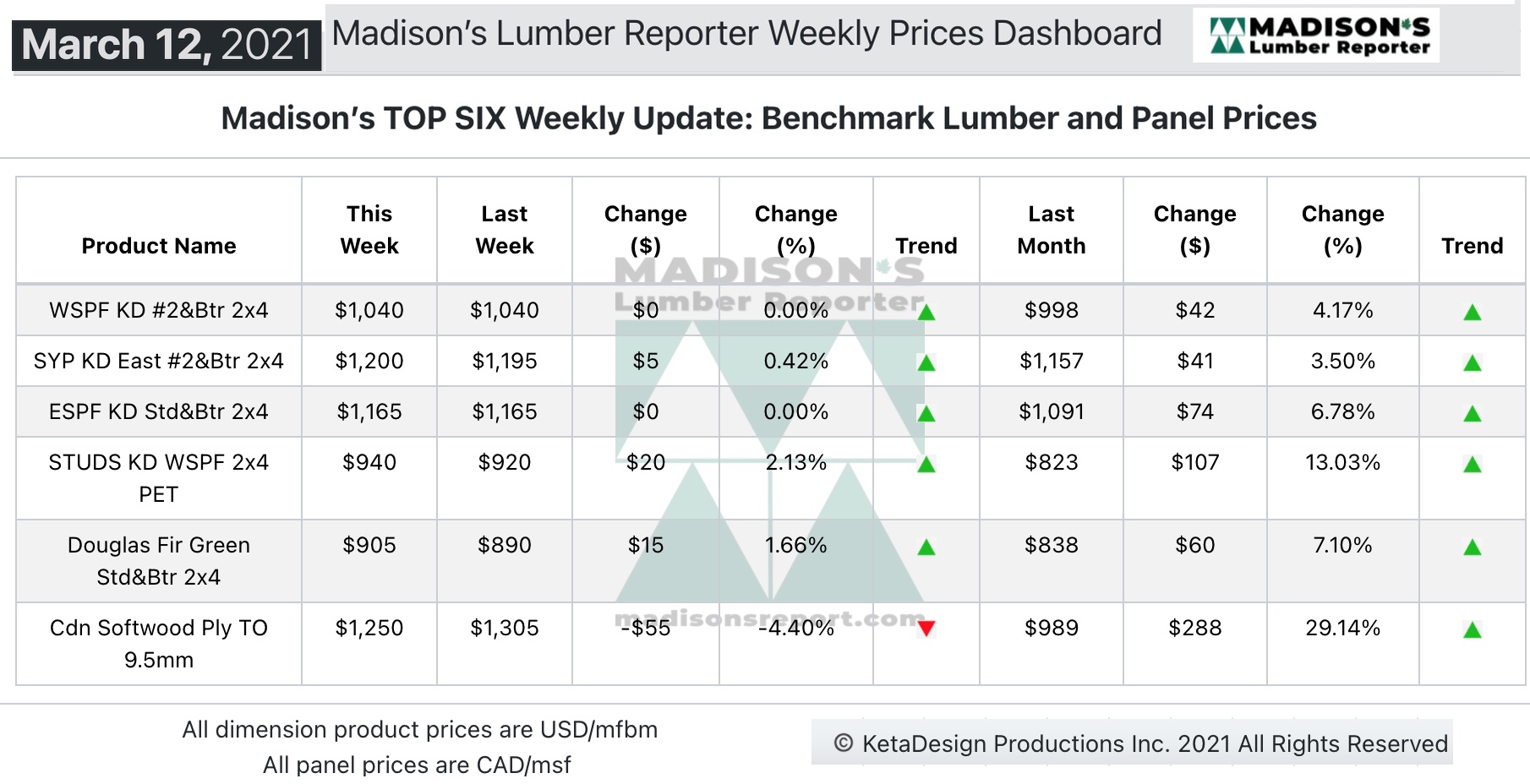 "The upward trend in many commodity prices appeared to be slowing, even as strong demand persisted." — Madison's Lumber Reporter
For the week ending March 12, Western S-P-F purveyors in the U.S. were busy again. Players noted there was no room for hesitancy in this market, as anyone who slept on an order lost it. Sawmill order files were pushing into April.
Canadian Western S-P-F dealers saw demand perk back up as order files at sawmills extended into the week of April 5 and rail car supply improved marginally. WSPF 2×4 prices topped out last week at an astonishing $1,040 and demand didn't miss a beat as customers searched for other items.
madisonsreport.com/
Again staying flat from the previous week, in the week ending March 12, 2021, the price of benchmark softwood lumber commodity item Western S-P-F KD 2×4 #2&Btr remained level at US$1,040 mfbm. That week's price is again +$42, or +4%, more than one month ago when it was $998.
"Sales activity slowed down a trifle in the U.S. northeast, but stocking wholesalers on the U.S. eastern seaboard expected any pushback would be temporary. Prices advanced again significantly, giving many customers sticker shock after they thought they'd grown numb to that." — Madison's Lumber Reporter
Compared to the price one-year-ago, still at US$446 mfbm, that week benchmark softwood lumber item Western S-P-F KD 2×4 #2&Btr was again selling for US$1,040 mfbm which is +594, or +133% more.
---
Print this page