Industry News Markets
Prices peak on hot softwood lumber demand
March 10, 2021 By Madison's Lumber Reporter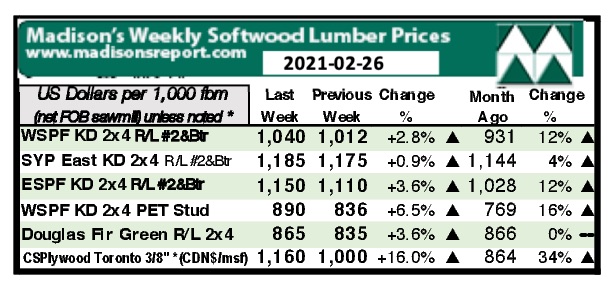 The latest data on U.S. home sales and house prices, released last week, underscored why softwood lumber prices keep going up in early 2021. Demand for new homes is reaching a fever pitch as realtors report runaway bidding, and the supply of homes for sales drops to dangerous levels. While still at four-months' worth of supply, the availability of homes for sale keeps dropping as motivated buyers send house prices to new, lofty levels. There are indications that the U.S. real estate market is reaching a potential top; this week, a significant number of builders and contractors say they will delay projects as new lots, construction staff, and builders materials are becoming almost impossible to source.
Winter weather still grips most of the continent and this is not the time of year when real estate activity in Canada and the U.S. is usually strong, so if the data is showing such a high level of interest now it is only reasonable to assume that — come spring — home buying will become even more intense. Given that, lumber prices will maintain these high levels into the foreseeable future.
"Limited lumber supply and astronomical prices continued to fuel consistent business." — Madison's Lumber Reporter
Demand for Western S-P-F commodities in the U.S. was relentless, despite the dampening effects of rough weather on construction and transportation. Late-March order files at sawmills were commonly reported, with more popular items into early April. Players noted increasingly frantic demand for low grade stock.
Canadian Western S-P-F producers watched as the market kept pushing higher in terms of pricing and demand. Production of most items were booked into the first week of April, with ceaseless logistical problems adding two to three weeks to those timelines. For their part, buyers frantically searched for any stick of wood they could find. Field inventories were often more bare ground than lumber, causing customers to call frequently checking on their orders.
Now reaching levels never seen before, in the week ending Feb. 26, 2021, the price of benchmark softwood lumber commodity item Western S-P-F KD 2×4 #2&Btr rose another +$28, or +3%, to US$1,040 mfbm, from $1,012 the previous week. Last week's price is +$42, or +4%, more than one month ago when it was $998.
"Strong sales activity persisted in Southern Yellow Pine while more production was on the horizon as Texas, Arkansas, and Oklahoma continued to open up after winter blizzards. Buyers were unhappy with sky-high prices but between retailers, contractors, and others there was plenty of appetite for still-limited supply." — Madison's Lumber Reporter
---
Print this page