Keeping a harvesting head's delimbing tool well maintained improves machine and operator performance. With the right edge, delimbing progresses steadily, and there's no need to repeat the process or reverse the head. And getting this boost requires little effort or expense - The cutting edges of the delimbing knives can be quickly sharpened by hand.
November 16, 2011 By Scott Jamieson
Maintaining the head's cutting tool increases productivity as well as service life. Poorly maintained delimbing tools can result in broken or torn tree tops, leaving valuable timber in the forest. What's more, soiled or limbed timber is considered lower quality and reduces harvester productivity. Always start by checking the delimbing knives for any compression damage. Such irregularities are easily straightened out with a hammer.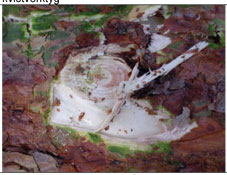 The cutting angle of the delimbing knives ought to be adapted to the harvesting assignment. If you are unsure of the proper angle to use, contact your nearest dealer for more information. The knives can be sharpened by hand with a suitable tool. For larger alterations, such as changing the edge angle or reshaping the knives, use an abrasive disc. Remember that an abrasive disc grinds the knives aggressively and can cut back the edge considerably. Easy does it. To simply sharpen the delimbing knives, use a hand file or a so-called riffler.

The head's rear delimbing knives can be sharpened in the same manner as the forward knives, though a relatively large opposing edge is most often ground. If the trees to be harvested have lighter limbs and are not knotty, the rear knives can be rounded off to reduce bark scraping caused by friction when reversing.
These tips come courtesy Komatsu Forest.
---
Print this page