The rough access road is punched in so high that ears pop as the pickup ascends, but it's at such heady heights that Kelowna contractor Mike Closs is racing the mountain pine beetle (MPB) on a Tolko salvage operation. A full-phase contractor, his machines are staged through the large clearcut felling, skidding, processing, sorting, decking, loading, and trucking to Tolko's Bear Creek dump, into Okanagan Lake, and on to other Tolko facilities across the BC Interior. His machines are sweeping through the lodgepole pine stems peppered with small holes resembling buckshot. Long stacks of processed logs are decked by the roadside, and on the side hills are beetle huts, huge debris piles of beetle-killed wood waiting burning.
November 8, 2011 By Jean Sorensen
"We will go through 100 ha in 30 to 40 days," he says, as the crew of Mike Closs Logging Inc. delivers the daily two-shift quota of 1,500 m3.
The strategy is simple as set out in reports, letters, and memos from BC Chief Forester Jim Snetsinger. Get into infested stands with no real secondary species, clear out the pine, and leave any patches of spruce, fir, and balsam for wildlife, stream and soil retention. The openings left are large – 100 to 150 ha (in some BC Interior regions up to 1,000 ha), but on the hilltop there is every indication that this rapid, clean sweep, like a cleansing wildfire, is doing the trick.
Just down from Closs's cut area is a 2004 cut block restocked with pine in 2005. The area is amazing. Most of the evidence from logging is hidden in a riot of mountain wildflower colours, new vegetation is springing up two or three feet high, birds flitter between bushes and swaths of rich purple fireweed cut like streamers over the mountainside. It is stunningly beautiful, like a mountain meadow.
Yet the speed with which the area has rebounded poses a natural mystery. How – in just three short years – did all the seeds for thousands of plants spread over this large mountain face, where dog-hair-thick, 80-year-old pine prevail, and then take root high on the mountainside to flourish?
The increase in wildlife is also noticeable. "We have never seen so many deer and elk around before," says Tolko logging superintendent Bruce Thompson. "During the hot weather, they were wandering down to the stacks of logs and lying in the shade."
The cut block's regeneration is in sharp contrast to what lies across the valley's far shore horizon. Like red welts, the path of the beetle infestation is whipped across the horizon. Even old pros like Thompson, who dealt with the MPB in the mid-1970s, stand in awe of this infestation of a grain-sized bug. "In 2004, there were only a few red spots," he says, looking at the far slope.
The infestation's spread has caught all by surprise as the Okanagan is late in getting the beetle. Thompson and Closs had heard stories of the beetle's ability to rapidly spread in northern BC, where it is more solidly entrenched. Still, seeing is believing. "I think we have all underestimated it," says Thompson.
Tolko's strategy, points out Michael Thomas, RPF, has been to marshal its contractors on the edge of the attack, focusing on the heavily pined stands, and leaving those with mixed species as areas for wildlife. The concept is also to disrupt the beetle's advance.
That's been a frustrating and tough battle, says Thompson. "Up until this year," he says, "I would say we were ahead of it." But, one of the realities of dealing with the MPB is that it does not follow any corporate cut plan. When it manifests itself in a new area, a company needs to develop new plans, carry out wildlife and environmental assessments, and build roads. Thompson has nothing but praise for the BC Ministry of Forests officials who are working closely with companies monitoring the bug's advance. Approval on areas can be gained in a week once the procedural aspects of planning an area have been met.
In contrast, the beetle requires no plan, no roads and no ministry approval. It doesn't even pack a trunk when it travels. It just flies with the wind to a new one.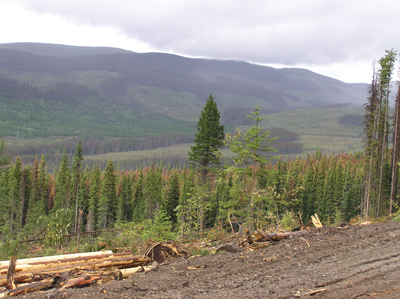 Sorting it out
Large clearcut areas may sound like a sweet deal to contractors, but the beetle comes with challenges. "Everything has become just a bit harder," says Closs, who has contract logged for 26 years in the BC Interior, and recently expanded his company with the acquisition of two other contractors. He has gathered $4 to $5 million of equipment on the mountainside to get the wood out. Closs, one of four large contractors in the Kelowna area that would cut 200,000 cubic metres a year, says everyone is facing the same economics of cutting beetle wood, a scenario expected to last for the next 10 years.
Beetle wood is drier, harder and less flexible, slowing feller bunchers. The brittle stems need to be guided down a little gentler. The dryer wood impacts the life of saw teeth. Closs operates mainly John Deere equipment from local dealer Brandt Equipment, but has other gear as well. For falling he uses a Madill T-2250 tilting buncher for the steeper slopes, and a John Deere 853 and Tigercat 860 on the flatter areas.
Closs points out stumps left. "Some stumps are slightly higher than others as the buncher operators are worried about nicking a rock" he says. The concern is rooted in the centuries-old cycle that has managed the infested pines – fire. Almost immediately after an attack, the pine becomes ideal fodder for forest fires. Red needles, still rich with pitch, start dropping to the ground or, during the cutting phase, shower down like red rain. If the buncher hits a rock, sparks fly and the tinder-like needles are quick to ignite. Operators are always ready with a piss can and extinguisher.
Closs and Thompson talk about how three small bush fires started further upcountry only a week ago. Closs's operators leave the stumps slightly higher on the very rocky areas of the slope, where machines also have a tougher time gripping.
Felled logs are pulled to roadside for processing by John Deere 748 grapple skidders. A steep-slope Cat 527 tracked skidder is used in steeper or wetter ground. Again, the operators have to exercise caution. When skidders are piling the wood, they can usually run over some of the stems or be a little rougher handling stems in the interest of speed. No more.
"When the timber was green it was flexible and had some give to it," says Closs, but not beetle wood. It demands more consideration or breakage occurs and it all impacts on machine cycle times and productivity.
At roadside, four John Deere and Hitachi processors with Waratah 622 heads are used. Closs says he's chosen the Deere and Hitachi carriers because "they are purpose-built and not a converted excavator." They also have a high degree of reliability, something Closs needs to ensure infested stands are cleared out as effectively as possible. The Deere-Hitachi units, he says, also retain a good resale value.
The Tolko strategy is to fit the log to the facility that will yield the highest return. As a result, Closs's processors run nine sorts: Pulpwood, fir peelers and sawlogs, balsam, spruce peelers, pine peelers, large and small pine saw logs, and a large spruce oversized sort. "Nine is complicated," he says, adding that two or three is "great" but increased sorting is once again the legacy of beetle.
Piling for the skidders is done with a John Deere 2554 equipped with an IMAC power clam, and supplemented with a John Deere 270, also with an IMAC power claim. The JD270 is also used for roadbuilding and deactivation. "Loading is done with an Hitachi Zaxis 200 log loader and a John Deere 2054 log loader. Each operator loads 13 to 17 loads per shift, although loading and delivery only occurs during the day shift. Having so many sorts affects productivity here as well. It takes more time to move the processed log to the right sort pile. And, it also takes longer to build a load. The loaders have to move between the sort piles followed by the truck. On steeper areas, with logs piled on the up-slope, there's often no place for the loader to nest in. It all just takes a little bit longer, Closs says, one of the realities of logging beetle wood. Everyone, from the guy on the buncher to the truck driver is working harder racing the beetle.
Logs are either taken to the designated mill or stored in Okanagan Lake, where the water halts the log's drying and the beetle's degradation.
Too dry, then wet
A late August cloudburst drenched the hillside as the rain over the past few days brings a welcomed forest fire respite. But, it also brings a new threat. The area around the road's shoulder is ankle deep in muck.
"Dead or dying trees don't drink water," says Closs simply. Already he's had to shut down a few days because the soil is too soft. The growing concern is deciding what kind of roads to build in the future as the beetle degradation continues.
Closs runs 10 logging trucks on the site – four Kenworth units belong to his company and have been adapted with expandable trailers able to haul both long logs (up to 60 feet) and short logs (29 to 10 feet). "You have got to be flexible today," says Closs, who also handles some small business contracts. But, the number of trucks, plus running highway and off-highway loads means the roads need to be reliable, sturdy, and yet easy to deactivate.
As the beetle attack turns the green stand to red, the sponge effect of the tree roots vanishes. Water is captured in that top layer of soil, and on slopes runs downward to any benched area. Closs, who uses a Volvo 330 road builder/excavator along with the JD270, believes contractors will have to go to more culverts and ditching to divert the runoff as they move into these dying stands. Finding economical and fast roadbuilding methods to access the dying timber base, which degrades quickly in the hot summers, looms as one of the greater obstacles in the Kelowna area.
Despite all the hurdles in the beetle race, there is still that bright patch down slope that was logged only three years ago. It is lush with new growth hungry for water and sun, and reaching skyward. Sometimes, tells Thompson, the growth in these areas is too good, and crews have to thin it so planted stock is not over-run. But, it demonstrates what the land wants to do, a resiliency that is greater than any company five-year plan or man-made, long-term forest strategy. Greater even than the beetle.
The large clearcuts, tells Thompson, are mimicking the large wildfires that eradicated the beetles naturally. In the last infestation in the area in the 1970s, large clear cuts also knocked down the bug. Today, he feels, the large clear cuts are just becoming a best practices solution. "We are rethinking the way we are doing things."
---
Print this page