While driving down a quiet stretch of Highway 6 near Salmo, in southeastern B.C., on a slightly damp early fall day, you don't get any hint that you are near a sawmill until you hear the slight hum of the operation's processing equipment and sense the aroma of freshly cut western red cedar. Situated just off the highway, a small and unassuming sign directs you to the parking lot of Porcupine Wood Products and your first view of the mill's single in-feed deck, which is configured to handle tree length logs before directing them to one of two breakdown lines based on log size.
November 9, 2011 By Bill Tice
Compared to some of the large dimension SPF mills typical in this and other parts of B.C., the Porcupine facility isn't complex in its set-up. It does however, offer the owners and management team a considerable amount of flexibility, which according to the plant's general manager and part owner Craig Upper, has helped the family company survive the current downturn in the forest industry.
"Having flexibility and a mill than can do more than one thing has been the key to our success," Upper explains. "This has allowed us to keep running through the tough times as we can switch between products very quickly to meet market demand. Most of our market decisions can be made within an hour, and they are made right from this desk," he adds.
Upper, who owns the mill with his parents, Jim Weed and Elaine Cockrill, is also quick to point out that having the flexibility he refers to is a reflection on the mill's "highly valued" employee group. "Not only can we change our product line quickly with the help of our employees, we can change our shift structure quickly when we need to meet customer requirements and order files," he notes. "We have a solid core of people working for us and about 70% of our employees have been with us for a long time. They live locally and do what it takes for us to get the job done."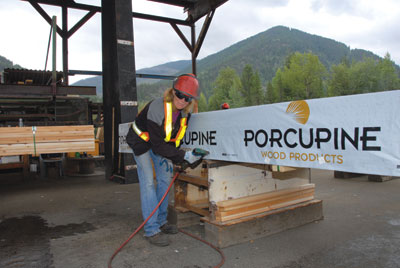 On average, Upper says they have about 90 employees and currently run on one shift most of the time. However, he says they will add some extra hours or go to two shifts in the sawmill or the planer and remanufacturing plant when needed. Today, the mill produces approximately 30 million BF of cedar products annually with a main focus on decking, fencing and tongue and groove panel products, but Upper says they are expanding their product line and recently started to produce external siding that features bevels and channels .
The Porcupine mill was originally built in the 1980s and was purchased by Upper's family in 1992. "It started out as a white wood stud mill, but my parents had a background in cedar and had two other operating cedar mills in the Kootenay area so they slowly changed this facility over to cedar as well," Upper explains. "We made a lot of changes here between 1998 and 2004 that would allow us to run a higher percentage of cedar, and then in 2004, we closed the last of our other cedar mills and focused on this one."
Top Quality Logs
In addition to flexibility, Upper says another strength Porcupine has is consistency in its products. "Our customer base hasn't really changed much over the years and that is due in part to our ability to produce consistent products day in and day out. When the customer takes the wrap off our product, they know what they are going to get. There are no surprises so they keep coming back to us. This is partially due to our fibre supply, which is second to none based on knot structure and grain tightness. This southeastern part of B.C. is a bit of a wet belt and that means shorter growing seasons, which in turn gives us logs with a tight grain structure."
When operating on a single shift basis, the Porcupine mill consumes about 125,000 cubic metres of cedar logs annually. They have a small annual allowable cut (AAC) of just under 10,000 cubic metres, which they purchased from a local licensee, so Upper says they "rely heavily" on B.C. Timber Sales, adding that they are one of the programs largest participants in the Kootenay region.
Mill Flow
All logs coming into the mill are delivered by truck and are weighed as they enter the yard. If the load meets the mill's specification, the logs are unloaded with a Wagner loader and either moved to the mill infeed for hot feeding with a John Deere 2054 butt-n-top loader, or put into inventory for later use. Generally the logs are sorted by size to help maintain flow through the mill's single infeed deck. In most cases, the logs are between 8-inches and 18-inches in diameter and average 12-inches, but Upper says they can accommodate larger logs with their large line when necessary. All of the logs coming into the mill are tree length and once on the infeed deck, they are bucked to length with the help of ATS Automation scanning equipment. An in-line Nicholson 22-inch debarker handles the smaller logs before sending them through a Cancar Mark IV chip-n-saw, while any logs larger than 22-inches are sent to a Roser Head debarker and then the large log line, which has a CAE head rig with a horizontal resaw to break down the slabs, and a Ukiah gang to deal with the cants. Around the middle of 2010, the mill picked up a used USNR board edger at an auction in the U.S. and it is being used by both the large and small log lines. "The new edger sits between the two lines and every slab from both lines will go through it," says Upper. "It is helping us to lower our costs and improves our recovery."
Wood from both lines goes through Valley trimmers and then a green chain. A significant portion of the mill's production is sold rough or goes to Porcupine's remanufacturing plant, which includes chop lines, resaws, a grading line, and what Upper calls "slice and dice" equipment, but they do run an older Woods planer with a Coastal (now USNR) infeed when a finished product is needed and Porcupine's dressed products have a reputation for a consistently high quality of finished appearance. They also installed a new Custom dry kiln dehumidifier last year for meeting the needs of customers requiring a kiln-dried product.
"You have to be able to do a lot of things and we can with the equipment we have," stresses Upper. "That's where the flexibility we talked about comes into play."
---
Print this page