As recently as the turn of the century, commercial thinning (CT) was all the news in Canada's forest sector. Some players, like Irving in the east, Heideman in southern Ontario, or Millar Western in Alberta were already doing it, but many others were running between workshops and tours from Whitecourt and Moncton to Jonkoping to see what all the fuss was about. And then...nothing. Fibre was cheap, sort of, plentiful, sort of, and modern sawmilling technology could make a 2x4 out of a 3-in tree, if markets were right. True believers went on with their CT work, and everyone else got back to business as usual.
November 16, 2011 By Scott Jamieson
Until now that is, as talk of impending global and regional fibre shortages have people talking about CT again. Most recently, Don Roberts of CIBC World Markets, a long-time industry analyst, suggested in a report on New Brunswick's forest sector that growing more trees, and faster, will be the key to cashing in on future strong markets for all things wooden. Similarly, expensive fuel has some thinking that it'd be kinda nice to have some good wood, close to the mill. Finally, any company that can show they are more than a one-hit wonder – clearcutting – will be ahead in the marketplace today.
What about spruce?
In that sense, Doug Reid and the folks at the Ontario MNR's Centre for Northern Forest Ecosystem Research (CNFER) may be ahead of the curve. Since 2006, they have worked with partners at the University of Guelph, Domtar, and FP Innovations (Feric and Forintek Divisions) to measure the balance of costs and opportunities in thinning black spruce stands. The trials are funded under Ontario's Forestry Futures Trust as part of its Enhanced Forest Productivity Sciences program, all in turn funded through industry stumpage. A comprehensive research trial has been established in the Lake Nipigon Forest near Thunder Bay, where researchers are investigating the commercial viability of CT work in these densely-planted stands, its ability to improve the value of the residual stands, the ecological effects, and the potential impact on local communities and businesses. With tens of thousands of hectares of black spruce established in Ontario from the 70s to the 90s, the goal is to help industry and government decide if CT work is a good option for such stands, and if so, the best way to go about it.
"The stands we are studying were planted in 1960/61 at a density of 3,000 stems/ha on very good sites," explains Doug Reid, boreal silviculture research scientist with the CNFER in Thunder Bay. As such, they promise good volumes by local standards – 180 m3/ha of merchantable fibre at age 47. But there's more.
"The importance of these stands is that they are not alone. The Lake Nipigon stands were used as a model for the OMNR's large spruce planting program that really got underway in the late 70s and continued into the early 90s. They may be a valuable source of wood for forest operations as the trees become large enough for CT, if questions regarding the benefits, costs, and effects of CT in black spruce can be answered."
And answered they must be if industry hopes to get the OMNR on board. Right now, Reid says, CT in black spruce plantations is not a recommended treatment like it is for such species as the red pine Eddie Heideman's operations have been thinning further south since the early 90s. It's not that the ministry doesn't like thinning.
"It's largely because the MNR does not have the information required to make a valid decision. Part of the study's objective is to get that information, so that we're not saying no by default. It could be a benefit for mills that are now hauling 500km one way to have potential sources close at hand. And thanks to the time gap between our stands, and the bulk out there (1960 trial stands versus late 70s), this study should be ready in time to help make informed decisions on whether to use CT in these young stands, and how."
Machine trials
The earliest part of the study is already complete, with several machine trials this past winter and early spring. The researchers brought in one of northern Ontario's only seasoned CT contractors, Decicon Harvesting of the Timmins area, to organize the actual work. Special rubber-tired gear was also used, thanks to some generous support from CTL manufacturer Ponsse. The Finnish-based supplier is no stranger to CT work, and brought in one of its larger Buffalo Dual harvester-forwarder combo machines. Decicon, which has in fact been doing mostly clearcuts near Chapleau for the past few years, was very keen to work on the trials, according to part-owner and thinning enthusiast Christine St. Pierre. They also had a skilled operator in Mika Rahkola for the trials, a logger who has since moved on to work with Ponsse as a demo operator. For Ponsse's part, supporting the trials was only natural.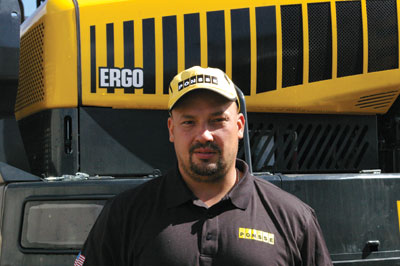 "Our machines are involved in thinning operations all over the world, so we were keen to get involved in promoting the method here," says Ponsse North America president Marko Mattila. "We had the Buffalo Dual available for the trial, and it works very well in the application, although probably the better option would be our Ergo or Beaver harvester (Ed. Note – The Buffalo Dual is a 14-tonne machine, but Ponsse also makes the Wisent Dual 12-tonne machine that would be better suited to CT work). The timing could have been better, since we ended harvesting further into spring than you might like for this work. But overall, it's important for CTL manufacturers to get involved in this kind of work, and we were happy to help. We were pleased with the trial."
The feeling was mutual, as Reid notes that both machine and operator performed well in some difficult circumstances. St. Pierre agrees that Ponsse's support was critical, and impressive. The thinning trial involved three sites – Two mechanical and one smaller manual site. The sites were then divided to test several different harvesting intensities:
• Remove 30 to 35% of the basal area
(15 ha of moderate thinning)
• Remove 25% of the basal area
(8 ha of light thinning)
• Remove 45 to 50% of the basal
area (8 ha of heavy thinning)
• Clearcuts on eight 1-ha sites.
The third, smaller site will yield another 6 ha of moderate and light thinnings and 3 ha of clearcuts. The reason for the clearcuts, Reid adds, is to provide industry and government with Plan B.
"CT is expensive work – we couldn't be doing it without funding. So we need to compare the benefits and costs of various CT options with short-rotation clearcut operations to make sure that we have the best overall option for these stands. The areas will be planted with good stock, and managed for short rotation."

Thinning costs will be compared to clearcut costs using Feric's extensive industry database. But since we all know it's cheaper to just harvest the whole stand at once as far as immediate logging costs go, the final verdict will have to wait five or six years, when researchers return to measure the response in individual stands.
"We'll be comparing the value differential over time, and within a wider business framework. We'll look at other economic factors across the whole forest value chain – cost at the mill gate, as many such stands will be a lot closer to the mill than alternative sites. Value is a tricky issue, as markets change and we can't know all those variables. Right now sawlogs here are not carrying the value bonus they have in the past, and likely will in the future. But we know that piece size will affect harvest costs down the road regardless."
Costs are of course an issue for contractors as well. St. Pierre says that because of a variety of factors outside their control, including the distance from their home base and the haul, "we lost our plaid shirts on this one." It's unfortunate that the smallest partner in the project took the biggest hit, something that researchers and forest companies will have to look at a lot closer if they hope to get contractor co-operation in future trials.
Forintek's Tony Zhang has already compared the value of the log products removed under each prescription, and a similar comparison will be made when researchers return to measure the response. As in any strategic planning exercise, assumptions will have to be made about factors as varied as the price differential between sawlog and pulp or biomass logs, to the cost of diesel (for transport comparisons). The goal will be to use the best possible info to determine how to best manage the stands.
For the University of Guelph's part, its staff will look at the nutrient cycle of the stands, and will also follow up on work done in the past on these same sites studying the effects of CT interventions on ground vegetation.
As results start rolling in over the next 10 to 15 years, it will be up to landowner (the Crown in this case) and industry alike to decide whether a change in prescription is just what the doctor ordered.
---
Print this page