Industry News News
Study shows BC's forest industry generated $13B in GDP in 2019
April 8, 2021 By COFI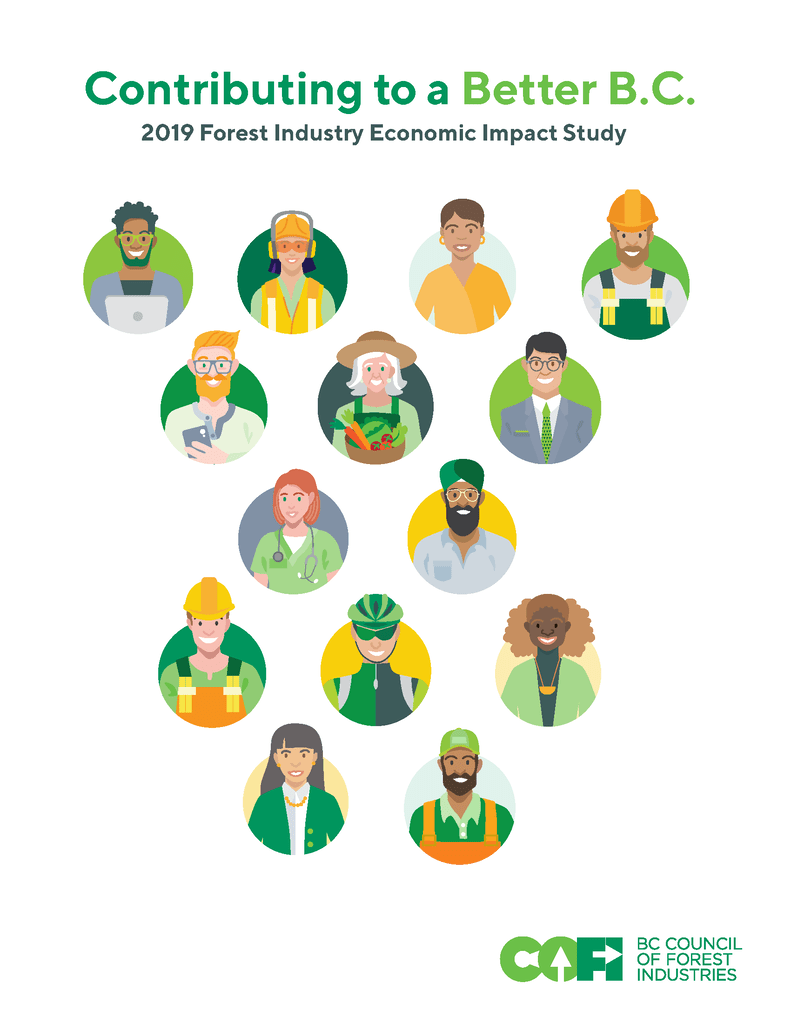 A new economic study released by the BC Council of Forest industries (COFI) shows that B.C.'s forest industry continues to generate significant economic activity in every region of the province.
"This study demonstrates again that B.C.'s forest products sector is an important part of the provincial economy, putting paycheques in people's pockets, helping small businesses pay their bills and supporting a good quality of life for British Columbians," said Susan Yurkovich, president and CEO, BC Council of Forest Industries. "The industry contributes to the well-being of communities from the Cariboo to the Northeast, from the Island to the Lower Mainland and Southwest part of our province, where nearly half the jobs supported by the forest sector are located."
The study – Contributing to a Better B.C.: 2019 Forest Industry Economic Impact Study – confirmed that, in 2019, the provincial forest sector supported more than 100,000 jobs, generated over $13 billion in GDP and nearly $8.5 billion in wages, salaries, and benefits. The industry contributed over $4 billion in government revenue to support health, education and other important social services. Additionally, the study found that between 2009 and 2019, forest industry companies invested about $14 billion in their B.C. operations.
The study that measured the economic impact of B.C.'s forest industry across the province was led by Kurt Niquidet, COFI's chief economist and adjunct professor in the Faculty of Forestry at the University of British Columbia. The data was largely sourced from Statistics Canada. PwC conducted a review of the methodology and confirmed the accuracy of the results.
"B.C.'s forest industry is, and will continue to, provide opportunities and benefits for British Columbians for decades to come," said Katrine Conroy, B.C.'s Minister of Forests, Lands and Natural Resource Operations. "We look forward to continuing to work with First Nations, industry, labour and communities to ensure a healthy, resilient sector."
"The forest sector is critically important to B.C.'s economy, and most importantly to the close to 50,000 British Columbians, including 12,000 USW members, who work directly in the sector proudly producing renewable, low-carbon wood products for the world," said Jeff Bromley, chair, Wood Council Canada, United Steelworkers.
Included in that large workforce are over 5,300 Indigenous people who are directly employed in the industry, more than any other resource sector in B.C. Indigenous communities are also vital industry partners as owners, and through business and stewardship partnerships.
"Our agreement with Western Forest Products enables Huu-ay-aht to have more jurisdiction over our ḥahuułi (traditional territory), strengthen the long-term sustainability of the forest sector in the Alberni Region, provide strong environmental stewardship that aligns with Huu-ay-aht's forestry guiding principles, and create more opportunities for First Nations, including our citizens," said Chief Councillor Robert J. Dennis Sr., Huu-ay-aht First Nations.
In addition to jobs directly tied to forestry operation, thousands of B.C.-based companies – small, medium and large – are in the business of supplying goods and services to the forest industry.
"Our forest industry partners rely on our drone technology to provide accurate information to make forest and mill operations more efficient and sustainable. Our solutions are being used by foresters and mill operators across North America as a direct result of the success here in B.C.," said Mike Wilcox, co-founder of Vancouver-based FYBR.
The study found that other businesses across B.C. – from restaurants to corner stores – also rely on a healthy forest sector. That's because workers employed by the forest product companies and industry suppliers spend their paycheques in their local communities, helping keep local businesses operating.
"The forest industry has not only been important to the Ideal Café, but to our family too," said Stephanie Bergen, who runs the Ideal Café in Campbell River with her parents. "Forestry is what fed our family for many years. The Ideal Café will always be about the industry."
---
Print this page