CFI has the latest rundown of scanning and optimization technologies available for mills these days.
September 6, 2022 By CFI Staff
Autolog
R-TRAC Rotation Tracking takes live degree measurements while the log is rotating. R-TRAC is a fully autonomous system and works with all types of log turners no matter which optimizer brand is installed. No mechanical modifications are required to the log turner or to the infeed chain. Very easy integration with any control system (PLC). R-TRAC system maintains a continuous reading of the rotation angle while the log is in the field of view as opposed to applying a rotation correction after the rotation is complete.
www.autolog.com
---
BID
Discover the power of optimization with artificial intelligence. You can now experience all the benefits from the artificial intelligence (deep learning) revolution. BID's concentrated investments in R&D enabled the company's team to combine its industry-leading optimization software with AI to create the next proven, powerful innovations in optimization performance. Customer results are remarkable: unsurpassed accuracy of defect and species identification, up to 100 times faster than generic algorithms, improved grading, and much more. The Comact GradExpert with AI offers the fastest return on investment in the industry.
www.bidgroup.ca 
---
JoeScan
The sawmill scanning experts at JoeScan have been working hard to develop next-gen scanners for more machine centers and will soon bring the proven simplicity of their JS-50 scan head to more parts of the sawmill. Mills love how the latest JS-50 WX model performs on their edgers and trimmers. It's a robust, reliable platform that is very easy to use. JoeScan will debut several new scanners at the TP&EE trade show in Portland, Oregon, Sept. 28 to 30.
www.joescan.com
---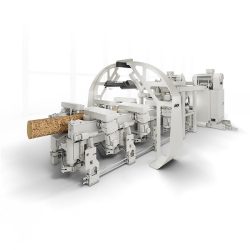 LINCK
Accurate log rotation before the first processing step is decisive to achieve high value recovery. With its optimization software, LINCK uses 3D-scanning data to generate a value-optimized cutting pattern and then determines the required angle for log rotation. With Log Motion Control, LINCK presents a further step in the development of this technology. A Microtec Truespin scanner is used where a camera records a characteristic pattern on the log surface and where log position is transmitted during the whole rotating process. The software determines the true log rotating position to be compared with the theoretical one. Any deviations is compensated by immediately adjusting the position of the rotating rollers.
www.linck.com
---
MiCROTEC
MiCROTEC's Logeye 900 Stereo has stereoscopic imaging system providing a full 360-degree scan of a log as it's rolling into the carriage, headrig, or end dogger. Since the scanning takes place as it's transferred into position, the log is already fully optimized and ready for sawing the instant it is dogged. This leads to higher throughput speeds and vastly improved recovery, as the entire surface of the log is imaged without shadows or occlusions. The scanner is also able to detect the current rotation of the log at any point in the process, allowing full rotation optimization and turn correction, a feature that was only previously possible on lineal log scanning lines.
www.microtec.us
---
Prologic+
Prologic+ joined forces with Finnos, which specializes in X-ray scanners; Prologic+ specializes in log optimization and TrueShape scanners. This collaboration has allowed both companies to create the ProX-Ray Scanner. Whether it is for detecting rot inside logs/stems or sorting logs for MSR qualities or to consider the log's internal characteristics in the optimized solution, the ProX-Ray can do it all. This scanner can be used on log merchandiser systems, log sorters and sawlines.
www.prologicplus.com
---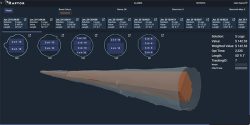 Raptor
StemScanner is the evolution of log scanning moved upstream to tackle the requirements of multi-saw merchandisers. The system models downstream machine centers and optimizes allowable products in each stem segment created. Each log produced can be routed to the preferred machine center for further processing. It supports single or multiple lineal scan zones to build a 3D model of the stem at high production speeds. Scan density is determined by the sensor of choice with typical resolutions in the range of ½ inch to 2 inches between slices. The intuitive browser-based interface with 3D graphics enables quick access to solution diagnostics and critical solution information.
www.raptorint.ca
---
TELCO SENSORS
The SpaceScan is a high-power, self-contained industrial light curtain system made for the sawmill and wood products industry. Generating a dense infrared multi-beam light grid, the system offers a sensing range of 10 meters with high excess gain and 100,000 lux light immunity. The series is available in a wide array of sensing heights, ranging from just 160 mm up to 2460 mm, making it suitable for almost any application. The light curtains are housed in sturdy aluminum profiles which are fully sealed for a waterproof IP67 rating and are designed to withstand severe vibration, shock, and misalignment.
www.telcosensors.com
---
VAB
VAB successfully brings to market new scanners/optimizers designed specifically for the needs of grading rough and dressed hard wood. The first of these scanners will be installed in Midwestern U.S. and uses multiple detection technologies including high speed cameras, both gray scale and color, as well as modules of artificial intelligence that search the highly precise imagery in comparison with specific databases to grade for such defects as blond knots, bark encasement within knots and checks plus worm/grub holes, etc. VAB has also seen the first oversized linear optimizer be put into service able to scan dimensions beams and cants up to 10 x 12 – 30 feet.
www.vab-solutions.com
---
Weinig
After a few years now of implementing the new SENSE scanner lines with deep learning artificial intelligence in many ripping and crosscutting installation for both hardwoods and softwoods application, Weinig is taking this technology to our entry level equipment and now offers a wide range of solutions with the AI core. 
From Weinig's flagship Combiscan SENSE systems for High speed ripping or crosscutting optimization, all the way to the EasyScan Smart, EasyScan Lite and EasyScan RT series, Weinig propose reliable technologies for higher yield and increase profitability .
www.weinig.com
---
Print this page