Oct. 26, 2016 - The new Tigercat 632E skidder is the most powerful, productive four-wheel skidder ever built. Several enhancements have been integrated into the new model, setting new productivity standards for timber extraction.

October 26, 2016 By Tigercat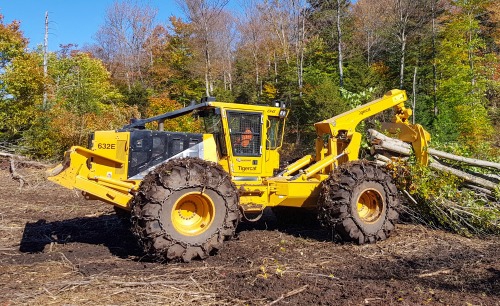 The 632E is powered by the simple and reliable Tigercat FPT N67 engine which provides full emissions compliance for Tier 2 and Tier 4f along with excellent fuel economy. It delivers 212 kW (285 hp) at 2,200 rpm.
The 632E can be equipped with the largest grapple offered on any four-wheel skidder on the market. The larger 2,1 m² (23 ft²) option has a tip-to-tip opening of 3 860 mm (152 in). Complementing the higher horsepower and larger grapple, the hydraulic system and driveline have been extensively upgraded. Several components and structures have been upsized for improved durability.
The 632E uses a larger main hydraulic pump and valves for faster operation and better multifunctioning. The hydraulic cylinders are larger allowing the machine to run pressures that are 10% lower while increasing performance by 10% on average. Cylinder rod sizes have been increased by 25%.
Load sensing control and a simplified steering circuit lead to more responsive and adjustable steering control. A newly enhanced EHS® transmission produces 11% more torque — with the same top speed as the previous generation of EHS.
The new OB20 rear axle – specially designed for the 632E — provides 47% more torque capacity and nearly twice the life on all bearings. The service brakes and park brake are incorporated into the new axle. The axle mounting has been redesigned to use four high-strength 30 mm (1.18 in) bolts and two 30 mm studs on each side mounted to a massive 77 mm (3 in) thick steel frame. The new design transfers the force to the skidder chassis and can better handle the higher torque load of the new axle and uprated EHS drive. Rear drive shafts have been increased in size to 8.5C from 7C.
Operators will see additional improvements in the cab starting with the automatic, air-ride seat. A new instrument panel layout improves placement of electrical outlets and the electronic control system display. Operators will enjoy finer joystick control of the travel speed. The new high visibility arch means a 10% improvement in visibility to the ground through the arch. LED lights, improved boom light location and a new arch light further enhance visibility to the grapple area.
---
Tigercat Industries designs and manufactures premium quality forestry and off-road equipment with manufacturing facilities in Canada and worldwide distribution. The diverse product range includes complete full-tree and cut-to-length harvesting systems, a growing line of land clearing and vegetation management equipment and specialized off-road industrial and material handling machinery. www.tigercat.com

---
Print this page