December 20, 2019 By CFI staff
In many ways, 2019 has been a rough year for Canada's forestry industry, particularly in B.C. The ongoing softwood lumber dispute in the U.S., challenging market conditions and high log prices led to low softwood lumber prices and sales, as Madison's Lumber Reporter informed readers weekly. Most of Canada's major lumber producers posted lower profits or losses in 2019. In B.C., nine sawmills closed permanently, while another 26 took downtime.
These mill curtailments have not only impacted sawmill workers, but also logging contractors throughout the province. In September, over 400 logging trucks made their way to Vancouver to protest forestry job losses in the province. While the provincial government announced initiatives such as the Coast Forest Sector Revitalization Initiative, the Interior Forest Sector Renewal process, and $69 million in aid to support Interior B.C. forest workers impacted by the crisis, thousands have lost their jobs and communities are feeling the impact. Compounding matters on the coast, thousands of workers have been out of work for more than six months due to an ongoing labour dispute between Western Forest Products and the United Steelworkers union representing forestry workers.
There were other challenges across the country that came as no surprise: an ongoing skilled labour shortage, as well as dwindling fibre supply due to wildfires, the decline of pine beetle-killed stands, and the impact of new pests.
While Moody's 2020 outlook for the global paper and forest products industry remains negative, it's not all doom and gloom – many logging contractors and sawmills have taken these challenges and turned them into opportunities. More and more sawmills are producing value-added specialty products, while loggers are chipping or grinding wood waste for biomass plants or to be burned as energy.
Speaking of value-added specialty products, 2019 could be seen as the year of mass timber. In March, the B.C. government approved tall wood buildings up to 12 storeys. Shortly thereafter, Kalesnikoff Lumber announced it would be building a $35-million mass timber plant. In July, the Ontario government invested $5 million in Element5's cross-laminated timber (CLT) plant, the first in the province. It's clear there is a growing demand for mass timber across Canada and globally. As Canadian Wood Council's Peter Moonen asked during our webinar on the North American mass timber landscape, "If not wood, what?" With the upcoming changes to the 2020 National Building Code, mass timber is set to make a mark in North American.
Here's a look at the top 10 most-read CFI stories of 2019:
10) Saw Filing 101 profile: Eagle Valley Saw Service
In 2019, seasoned CFI columnist Trevor Shpeley used his column to take readers inside saw filing shops. His first profile was on Eagle Valley Saw Service in Malakwa, B.C., which serves over 30 sawmills and reman plants. READ MORE.
---
9) Opinion: Who's voting for forestry?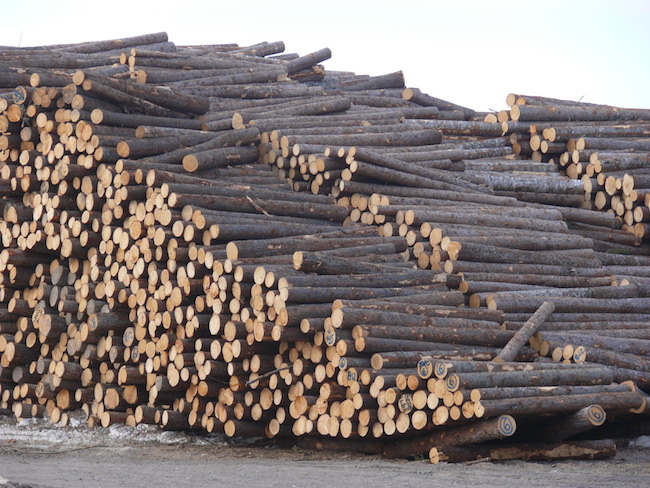 "For an industry that is the economic backbone for much of rural B.C., why isn't this crisis on the news every single night? Why isn't it discussed every day in the provincial legislature? Why wasn't it a major theme for federal party candidates?" asks TLA executive director David Elstone. READ MORE.
---
8) Wood-fibre insulation: an effective, renewable choice for residential buildings
"Dry-process wood-fibre insulation panels are the future of building insulation in Canada because we have the natural resources and industry to produce them economically," says FPInnovations lead scientist, Bob Knudson. "We have excess fibre from sawmills for their production, and they offer superior performance and insulation, in addition to being environmentally safer than rigid foam insulation." READ MORE.
---
7) Leading the masses: Structurlam expands Okanagan mass timber operation
In the fall of 2018, B.C.-based Structurlam added a new manufacturing facility in Okanagan Falls. CFI toured the company's facilities shortly after the new opening to learn how this mass timber leader turns 2x6s into beautiful pre-fabricated masterpieces. READ MORE.
---
6) Making a comeback: how Tolko restarted its High Prairie OSB mill
With the number of curtailments and mill shutdowns announced in 2019, it might be surprising to learn that one mill is making a comeback. But that's exactly what Tolko Industries' oriented strand board (OSB) mill in High Prairie, Alta., is doing. READ MORE.
---
5) Logger finds sustainable success commercial thinning
"In terms of fibre availability, until we space our stands and grow them for quality, health and vigor, we will suffer as we are. We must discontinue harvesting for quantity and log for the future," Ian Kerr, owner of AcreShakerr Contracting, says. He is one of B.C.'s first loggers to find success commercial thinning in the province. READ MORE.
---
4) Editorial: Learning from women in the forest sector
To celebrate International Women's Day this year, CFI editor Maria Church interviewed 10 women from forest product companies across Canada with the goal of sharing their stories, career advice, and management tips. These 10 women are "already forging the way towards a future in which no one thinks twice about whether they'd be the right fit in our industry." READ MORE.
---
3) Building taller: BC mass timber suppliers see surging sales in Canada, US
As the B.C. commodity lumber sector shutters mills, the B.C. value-added sector serving mass timber construction is surging forward with sales buoyed by a strong U.S. economy clamouring for new buildings and optimism over changes in Canada's 2020 National Building Code. Jean Sorensen discusses the current North American mass timber landscape and provides some insights about what the field might look like in 2020. READ MORE.
---
2) Introducing CFI's seventh annual Top 10 Under 40
We often hear about how challenging it is to attract young people to the forestry industry. But it's encouraging to know that there are, in fact, many young people across the country who will help ensure the industry continues to succeed for generations to come. Canadian Forest Industries is proud to highlight the winners of our seventh annual Top 10 Under 40 contest. READ MORE.
---
1) Here's how many BC sawmills have taken downtime so far
In 2019, hardly a week went by that we didn't hear of new sawmill curtailments or closures in B.C. We knew it would be a rough year for Western Canada's lumber producers, but that didn't stop us from cringing each time a news release was sent out announcing planned downtime, to say nothing of the direct effect on employees and communities. Here's a map and list of the mills that were affected this year. READ MORE.
---
Print this page