Industry News Markets
US housing starts rise again, softwood lumber prices remain flat
December 17, 2019 By Madison's Lumber Reporter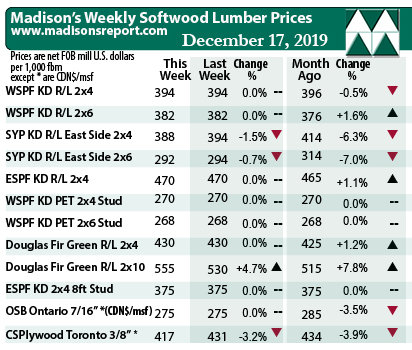 It was not a surprise to Madison's Lumber Reporter this morning when the latest U.S. housing starts data showed continued improvement. Such a strong end to what turned out to be a pretty good year for North American construction framing dimension softwood lumber prices — after a terrifying start — bodes well for 2020. This Friday will be the last update for the year, and Madison's is advising that lumber sales will start out hot right at the beginning of January 2020. At this moment, Canadian and U.S. sawmills are reporting they are holding off booking new sales until January, just to maintain current price levels. If the customer tries to counter-offer at a lower price, they are quoted for January delivery.
U.S. housing starts data encouraging upward trend continues, which admittedly surprised many analysts, beyond 3Q this year. Builders, realtors, banks, and other experts noted last month that if U.S. homebuilding activity improved again for November, that would carry through to next year. Given the brutal end to last year and horrifying drops in lumber prices to 1Q 2019, lumber producers have maintained caution and not built up lumber inventory. Log supplies across the continent, however, are literally bursting. This is the very best combination for a sawmill's year-end: lumber yard empty, log yard jammed.
Strong demand persisted in Douglas fir commodities, while the pre-holiday wind-down continued in the rest of the commodities. — Madison's Lumber Reporter
For their part, similarly, reloads, wholesalers, and secondary suppliers have also not been building lumber inventory. Players remain cautious, especially given the massive amount of sawmill closures over this year. Sentiment among customers that prices might go down stubbornly persists.
The price of benchmark lumber commodity Western Spruce-Pine-Fir KD 2×4 #2&Btr last week was unchanged from the week before, still at U.S. $394 mfbm (net FOB sawmill; cash price, or "print"). This price is -$2 less than it was one month ago. Compared to one year ago, this price is up +$60, or +18%.
Be ahead of these data releases … Don't delay, this week's softwood lumber market comment was published to the website Monday morning.
* Madison's Lumber Prices, weekly, are a good forecast indicator of US home builder's current lumber buying activity
In the west, sales of WSPF lumber and studs in the U.S. took another small step back this week as the majority of buyers had their immediate needs covered and purchased minimal volumes only. — Madison's Lumber Reporter
Compared to historical trends, last week's WSPF 2×4 #2&Btr price continued rising, up by another +$25, or +7%, relative to the one-year rolling average price of U.S. $369 mfbm, and is down -$43, or -10%, relative to the two-year rolling average price of U.S. $438 mfbm. Last week's price is up +$20, or +5% relative to the five-year rolling average price of U.S. $374 mfbm.
The below table is a comparison of recent highs, in June 2018, and current Dec. 2019 benchmark dimension softwood lumber 2×4 prices compared to historical highs of 2004/05 and compared to recent lows of Sept. 2015:
---
Print this page