Gold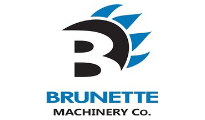 ---
Brunette Machinery has been a premium supplier to the forest industry for over 75 years, specializing in wood processing and material handling systems. Brunette's extensive experience in manufacturing guarantees its customers an unsurpassed level of quality, and leading-edge technology built into every one of its state-of-the-art machines. The company's products are ideal for lumber, panelboard, pulp/paper, and renewable energy industries and include chippers, hogs, log sweeps, conveyors, debarkers, Log Singulators®, butt reducers, and other wood processing and log handling equipment. Brunette provides custom engineered systems to help you get more from your mill.
Brunette is well-known for its high-performance stationary drum chippers available for different applications including trim blocks, chip overs, lily pads, veneer, cores, spinouts. The whole log chipper can be set up to produce pulp chips or "micro" chips for added versatility. Brunette chippers are available in drop feed or horizontal feed configurations.
Other key products in Brunette's diverse product line include the CBI Grizzly Mill Hog — the heavy weight champion of grinding; the Brunette BioSizer® — a high speed secondary grinder; the SmartVIBE® — a unique vibrating conveyor with no coil springs; the Brunette E-Sweeps — electric log sweeps; the Brunette Reclaimer — a rotary debarker; scalping screens; flare butt reducers; the Brunette RTL Log Singulator®; and the Optical Belt Scanner.
The newest addition to the Brunette product family is the CBI Magnum Force high volume, stationary electric grinder, featuring an open-ended design, extra-large capacity for feeding full length materials and interchangeable rotors for grinding or chipping.
Brunette provides flexible, custom-designed solutions that best meet its customers' needs. Brunette's sales team works with your organization to develop a plan that is easy to implement and provides true benefits.
Brunette Machinery is an independently owned and operated company. With two BC locations, (Metro Vancouver and Prince George), Brunette is well positioned to serve the North American market. The company continues to be a leading manufacturer in the forestry industry, with a robust R&D program focused on creating innovative products and adding features to existing ones. Brunette's commitment to quality gives its customers an important advantage as they compete in an ever-changing global economy.
For more information visit our website www.brunettemc.com
CONTACT FOR ADDITIONAL CONTENT:
Cathy Johnston
media@brunettemc.com
Brunette Machinery Company Inc.
8717 – 132nd Street, Surrey, BC
Canada, V3W 4P1
Ph. 604-522-3977
www.brunettemc.com
Presented by