Jan. 23, 2018 - Canadian Forest Industries Top 10 Under 40 contest is an annual tradition, drawing in nominations from coast-to-coast and recognizing young leaders in forestry.

To individually acknowledge each winner and his or her contributions to the forest industry, CFI has featured each of our top 10 winners of 2017 over 10 weeks.

In wrapping up our amazing roster of young individuals, we introduce our readers to Marco Gaudette.

Marco is owner and operator at Broyage RM in Saint-Hyacinthe, Que.

As soon as he turned 18, Marco decided to become a construction entrepreneur. Years later, in 2009, Marco trained as a carpenter and took interest in the forest sector. At the time wood pallet businesses had a lot of residues to shred and Marco saw a business opportunity.

"I called Domtar to sell them the biomass before buying a wood chipper," Marco says. "But they did not transfer me to the right person, because a forester offered me a grinding contract on their private lands." That contract was more than enough for Marco to invest in a wood grinder and launch Broyage RM in Saint-Hyacinthe, Que.

Marco's margins were slim with his first contract, but the entrepreneur persevered. Eight years later, at 34-years-old, Marco's company now processes 225,000 tons of biomass yearly for clients such as Domtar, Acadian Timber and Irving. Meanwhile, he developed a unique business model: he buys the raw material left in the forest, grinds it and sells it to pulp and paper mills.

The profitability of his business is tied to transportation costs. In 2009, operations were limited to 75 kilometres or less from the mill in order for Broyage RM to make money. Today, Marco Gaudette can go as far as 130 kilometres and still make a profit with his three grinders – two Vermeer's and one Morbark – and nine employees.

To keep his business growing, Marco now dreams about a biomass mill that would store and process even more raw material for his clients.

Thank you once again to all of our nominees. We can't wait to read about more talented individuals in forestry in the search for the next Top 10 Under 40!


---
Read last week's spotlight on Ali Zarei.
January 23, 2018 By Canadian Forest Industries staff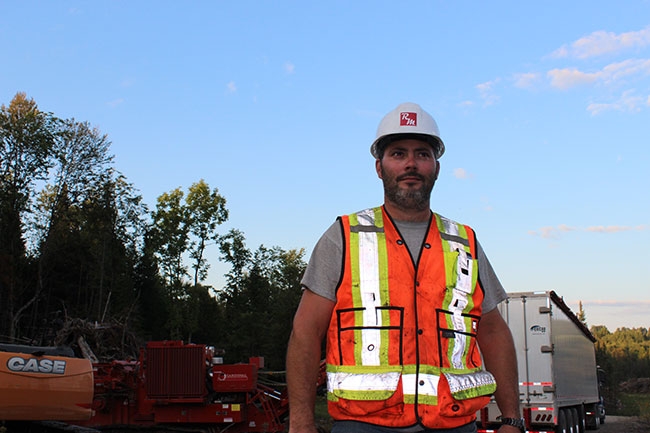 ---
Print this page