New Gear Harvesting New Gear
Fecon Mulcher Minute video series assists owners with machine maintenance
December 13, 2021 By Fecon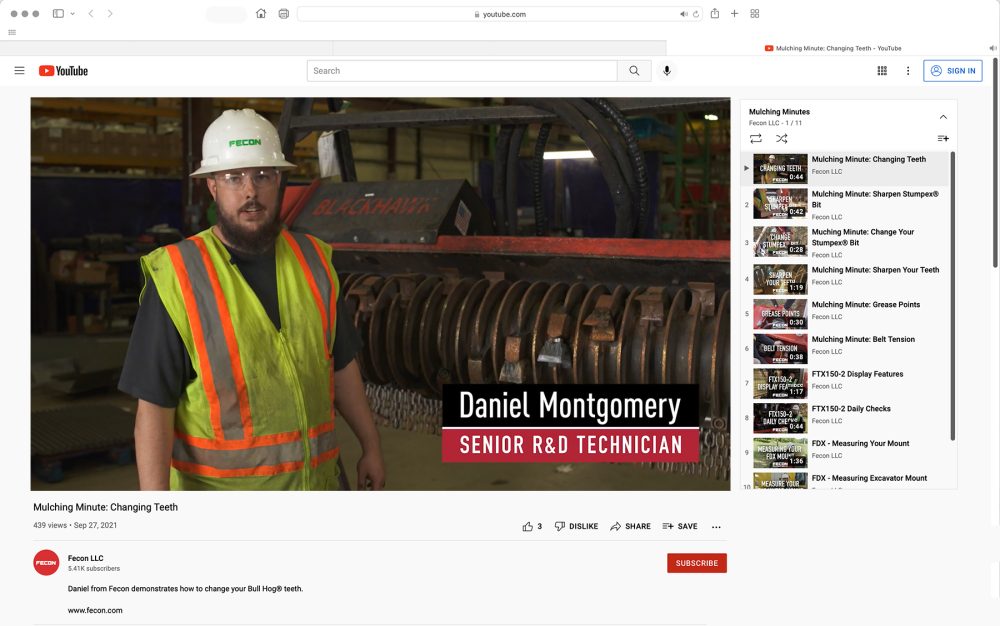 Fecon has launched a series of informative videos on their YouTube channel aimed at helping owners with maintenance aspects of their Fecon Forestry Mulchers.  Dubbed the Mulcher Minute, these short, informative, presentations demonstrate maintenance aspects like changing or sharpening teeth, or lubrication, or tuning up mulchers for maximum productivity in the field, and more.  New content is added weekly to further enhance the ownership experience.  In addition to mulcher maintenance, the company's YouTube channel also hosts videos detailing their products, as well as customer testimonials, employee testimonials, company happenings, and more.  Fecon video content may be viewed at www.youtube.com/c/FeconLLC/videos.
"We wanted to give owners valuable and helpful information in bite-sized portions" says VP of Dealer Development Mike Kucharski.  "These guys are busy so they don't have time for a 30-minute dissertation, but they can watch a 1-minute clip.  Demonstrating the task at hand is much more helpful than proving a manual or written instruction.  With new content added weekly, there is always something fresh to help them and enhance the ownership experience."
For more information on Fecon products, contact Mike Kucharski at (513) 696-4430, or via e-mail at mkucharski@fecon.com, or visit them online at www.Fecon.com.
---
Print this page