Canadian Forest Industries looks at the options available to cut trees and process the logs.
April 9, 2013 By Canadian Forest Industries
Caterpillar
Caterpillar Forest Products is introducing a full line of processing heads designed and manufactured by Satco, a New Zealand company. Caterpillar is the exclusive distributor in Canada and will offer the line and provide parts and support through select Cat dealers in Canada. The line includes seven processing heads that range from a weight of 1,190 kg (2,618 lb.) with a maximum cutting diameter of 635 mm (25 in.) to 3,850 kg. (8,500 lb.) with a cutting diameter of 800 mm (32 in.). The heads are designed to be matched with Cat Forestry Machines (FMs), track feller bunchers and the Cat 501HD harvester.
Satco heads were built to handle the rugged logging conditions in New Zealand and have the durability needed by Canadian loggers. The beefy heads are constructed using high-grade materials. Hoses from the carrier to the head are routed through the linkage and are not exposed. This protects the hoses from damage and prevents them from over-bending causing premature failure. Main valves are rated at 420 bar (6100 psi) and can easily handle carrier pressures.
The Satco 223 and 322 are especially well suited for processing big wood in western Canada. Both heads have SuperCut 100 topping saw systems and 80 mm (3+ in.) roller arm pins for strength and durability. The Satco 223 is a two-roller processing head with an optimal stem capacity of 584 mm (23 in.) diameter. The heavy-duty 3/4 in. main saw system features a 45 cc saw motor and large diameter bearing for smooth cross cutting and felling of large diameter trees. It can be paired with the Cat 324D FM, 325D FM, 521B, 522B and 541 Series 2. The Satco 322 is a three-roller processing head with an optimal stem capacity of 560 mm (22 in.) diameter. It can be paired with the Cat 320D FM, 324D FM, 521B, 522B and 541 Series 2. The Satco 214 handles multiple stems and is well suited for harvesting and processing the smaller, mixed stands in eastern Canada. It is a two-roller processing head with an optimal stem capacity of 350 mm (14 in.) diameter and can be paired with the Cat 501HD, 320D FM, 521B and 522B.
---
Hakmet
Hakmet distributes the AFM harvester/processors in North America. AFM has 12 harvester/processor heads, two combi heads, an energy wood head and a felling head. The combi head can harvest, process, sort and load logs with just one head and base machine. The AFM heads are designed for demanding operations with a low maintenance cost due to reliability and universally used components. AFM heads work with all harvester bases and most measuring systems with solutions for softwood and hardwood species for harvesting or processing with feeding speeds up to 20 ft./s.
High-strength steel delimbing knives and a three-roller non-sliding feeding system with proportional pressure on roller arms and knives reduces fibre damage and timber-friendly steel rollers conserve the quality and structure of the timber. The heads feature accurate measuring through constantly centring of the stem and the diameter, and simple and long-lasting block-type hydraulics that are well-protected and centrally located.
---
KETO
Quadco is the exclusive distributor of KETO harvester/processor heads in North America. KETO is a dangle-mounted processor/harvester with a unique track system giving you ultimate traction on the tree and the best measuring in the industry today. Many improvements have been made over the last few years. The 660B is capable of handling hard and softwoods while the 870B is designed for the big stuff and is at home in hardwoods as well. The latest features of the 660B and 870B include easy-access covers for the top saw, track motor and main valve, a new cutting back edge on the moving knives allowing the head to delimb in both directions, easy-to-handle tops, new geometry to aid in reversing, and power-tilt for smooth up-and-down loading even during feeding.
The new Technion xLogger computer system for KETO also brings numerous enhanced features including a computerized sawing function that cuts according to tree diameter and prevents log end splitting, an open-concept joystick function for any operator setup, automatic priority preset selections, different display options, very accurate length and diameter control.
---
Komatsu
The new Komatsu 398 harvesting and processing head is designed to handle a wide range of applications from selective harvesting to clear cuts. It works both at the stump as a harvesting head and at the landing as a processor for pre-felled timber.
The 398 is designed to handle timber with diameters in excess of 585 mm (23 in.). It uses a well-proven high flow capacity main valve bank fitted with O-Ring Face Seals (ORFS) for better sealing of hydraulic connections. For improved hose protection, hydraulic and electrical lines between carrier and head are routed through the rotator link.
The 398's "carry style" feed system has three driven rollers and four motors. Two cylinders and an equalizer bar control the feed rollers. The main feed rollers cradle stems while pulling them into the head for a firm grip. A powered centre roller reduces friction for high feed power. The result is a secure grip with constant measuring wheel contact for accurate measuring.
The Komatsu 398 has four delimbing knives with an optional bottom-mounted delimbing knife. Cutting is handled by a 790 mm (31 in.) capacity 19 mm (¾ in.) pitch bottom saw and a 460 mm (18 in.) integral topping saw.
The head control system features the Windows-based Komatsu MaxiXplorer Head 3.0 platform, which combines the power of a PC, a 12-inch colour monitor, Microsoft Windows and Komatsu's MaxiXplorer for control of all head functions.
Komatsu's unique EcoOiler provides programmable control of the amount of saw bar lubrication for both the bottom and top saws.
---
Log Max
Log Max is introducing the following improvements to its attachment line for 2013.
Active Friction Control: A new and improved way of adjusting the amount of friction between the log and the harvester head's frame. Lower friction leads to lower fuel consumption, maximizes limbing power and minimizes heat generation.
Log Mate 500: The Windows-based system is made up of four robust solid-state components that give the customer the market's most powerful multi-stemming reports, monitors and optimizes the machine's performance, and allows the user to test and control all I/O functions.
V-Style Aggressive Feed Rollers: By placing the stud bars in angled rows, the feed rollers are able to maintain a very high pulling force in forward or reverse direction while self-cleaning, with no bark buildup. The new style also meets the criteria for approved penetration, which eliminates any risk of fibre damage.
Saw411XL: F12-60 cc sawmotor for the Log Max 7000XT and 10000XT. This high torque motor ensures consistent speed and torque through the entire cutting cycle.
7000XT Fixed Head: Based on the design and durability of the 7000 XTREME series, the fixed-mount configuration allows the operator the versatility of controlled felling and bunching . The hydraulic rotation unit with positioning and free-floating is attached directly to the head frame.
Multi-stemming: This accumulation kit was designed by Log Max to be an option that could be fitted to a new or used Log Max head. This unit allows the harvesting head to be used conventionally or with multi-stemming for thinnings or in late brush cuttings. The unit opens wider than the maximum feed roller opening, thus allowing for trouble-free collection of stems.
---
Logset
The Logset TH range of harvesting heads consists of compact heads well suited for a broad tree size range. The harvester head range covers five models that can handle trees with a maximum diameter of 45-75 cm. Some key features are improved hose routing, serviceability, strong delimbing knives and synchronized feeding.
The synchronized feeding system ensures powerful and efficient feeding also for bent trees. Stem diameter measurement on both main knives ensures an accurate measurement, unaffected by variation in temperature and tree species. A fully hydraulic length-measuring wheel gives consistent measuring in all conditions. Certain models can be equipped with a rear knife and feeding wheels especially designed for efficient bunch processing.
The most suited product for North America is the TH75 head. For wheel-based and track-based machines, it is available with two or four hydraulic motors. As an option, a top saw can also be mounted on it.
The TH harvester heads can be controlled by the Logset TOC-MD measuring device. This measuring device continuously optimizes bucking and cutting window search. The patented automatic pre-delimbing
together with the traction control and power delimbing guarantee a high-quality end result. The innovative sequence mode and flexible automation levels help the operator gain higher productivity. The sequences adapt to the work phases, giving the operator freedom to interfere with the operation and then continue the sequence.
---
Pierce Pacific
The patent-pending Pierce GP-Grapple Processor is the only machine of its kind to sort, load and shovel like a grapple – and delimb, measure and cut like a processor.
The Pierce GP is a revolutionary new way for loggers to gain utility and productivity from a single machine that accomplishes six-plus tasks that normally tie up two machines.
It offers loggers significant savings in time, fuel, labour and maintenance at significantly lower price than the price of an ordinary processing head.
A unique, contoured arm design handles timber up to 52 in.
Integral feed wheels grab and shovel logs farther in fewer turns, as well as reposition logs without releasing or rehandling.
---
Ponsse
The Ponsse H7 harvester head is well suited for subsequent thinning and regeneration felling. The excellent roller assembly geometry offers large trunk load-bearing capacity, and the smooth grip adjustment of the delimbing knives and feed rollers, as well as the locking connection of the non-slip grip feed motors, make the H7 an unbeatably powerful harvester head.
The reliable grip of the H7 harvester head on trunks is mainly based on roller traction. The grip pressure of delimbing knives and feed rollers is adjusted easily according to the size of the trunk, which guarantees minimal friction between the trunk and harvester head during feeding.
Ponsse H5 harvester head brings the productivity of thinning to a completely new level. Working is fast and smooth and the design pays special attention to multi-stemming, in particular.
Multi-stemming is performed efficiently using the Ponsse H5 harvester head without the need of optional equipment, which would only increase the weight as well as the need for maintenance. Multi-stemming is based on the automatic operating logic of the delimbing knives and feed rollers, which enables grabbing a new trunk with the delimbing knives while the feed rollers hold the trunks in place in the harvester head. Multi-stemming considerably speeds up harvesting without deteriorating the harvester head's ability to handle single trunks.
---
Tigercat
The Tigercat TH575 harvesting head is specifically designed to match the high performance capabilities of the Tigercat track carriers in harvesting, processing and debarking applications. The TH575 is best suited to dedicated forestry carriers from 200-300 hp for harvesting softwood and hardwood in the 5-580 cm diameter range. Several TH575 heads are working on 200 to 290 sized forestry-type excavators and showing superior performance also on entry-level, lower-horsepower machines used for roadside processing.
TH575's have heavy-duty boxed steel structure for high-duty cycles. Taper-lock pins, isolation mounted high-flow valve assemblies, clean hose routings, larger feed roll motors and auto-tension for all main and top saw options provide high uptime and long service life.
The patented three-wheel drive system automatically switches between three-wheel and two-wheel drive to optimize traction, feeding power and speed. This maintains processing efficiency in small trees without sacrificing big tree feeding performance. Debarking efficiency is also improved, providing superior bark removal in difficult species with fewer back-and-forth feeding cycles. The independent feed wheel arms and larger feed wheels provide superior tree grip, further enhancing performance.
A larger-diameter measuring wheel with dedicated hydraulic circuit for fast response contributes to greater length accuracy. The TH575 uses a Motomit IT-E computer system with eight species and up to 100 preset selections per species, multiple products, learned tree taper and detailed volume reports. Full optimization is optional with Motomit IT-J.
Various operating settings allow head performance to be tailored to suit the application and operator – from full manual control to fully automatic or a mix of features, with fewer buttons to press to reduce operator fatigue.
The TH575 has a cutting capacity of 700 mm and an 800 mm cut option. Several options are available to tailor performance to suit application including a 0.404 in. top saw, a variety of feed rollers and measuring wheels. Depending on the options, the TH575 weighs between 2,300 and 2,700 kg. For fast cutting performance, the TH575 is standard equipped with a 0.404 in. pitch Hultdins Supercut 100 main saw with optional 0.75 in. pitch Supercut 300. An optional Hultdins Supercut 100 topping saw is also available.
---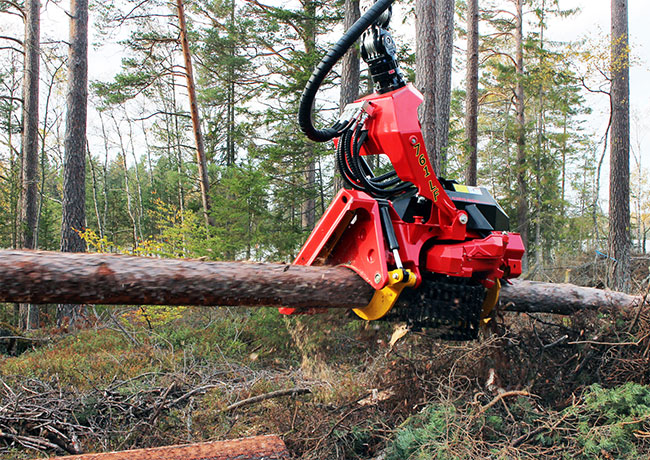 SP Maskiner
The SP 861 LF harvester head is designed to reach top productivity in tree sizes ranging from 25 to 50 cm. With a weight of 1,900 kg, it is a perfect choice for both 20-25 ton excavator carriers as well as mid-size to large purpose-built tracked harvesters. It is designed according to the LF principle for minimum friction during the feeding, resulting in maximum productivity as well as the lowest possible energy consumption on the carrier. Topping saw and specially designed processor knives are available as an option for increased performance and productivity when processing decked wood out of a pile. Other important features are the special expander pins, which offer the longest possible life and low maintenance, as well as the computer-controlled proportional pressures on knives and feed rollers with different settings available per species.
The SP 861 LF has been tested on different markets and carriers since February 2012 with very good results and was released for sales in October 2012.
---
Waratah
The latest generations of Waratah will be offering multi-tree processing and harvesting capability, new find end photocell designs, improved cutting performance, and bottom delimb arm options for ease of wood handling.
One example of a lightweight and versatile harvester head is Waratah's HTH616C. This head is perfect for processing small wood out of a deck, working behind a buncher, or full cut-to-length debarking at the stump.
With more than 15 years of research and development on the HTH616C and more than 400 HTH616C machines in use all over the world, the HTH616C harvester has the pedigree to support the product. The head can easily be installed on multiple carrier bases for roadside processing and final-felling of wood at an optimal of 40 cm in diameter.
The smallest of the 600 range, it offers the same state-of-the-art features of our larger heads. With our latest low-pressure-drop hydraulic valve, it is designed to improve hydraulic power utilization and reduce fuel burn. The valve also is mounted sideways to provide a smoother transition for the plumbing and reduce wear points and increase hose life.
A revised drive arm layout allows the power of dual hydraulic cylinders to maximize drive wheel contact while high torque synchronized feed motors give superior feeding power.
Flexible delimbing and feed arm setup is also available to assist with harvesting crooked stems. Other options include high-speed motors for low-capacity carriers and a proportionally controlled bottom delimb arm for greater delimbing and cross-cutting performance.
---
Print this page