Industry News Markets
After multi-week rises, most softwood lumber prices flatten
November 16, 2021 By Madison's Lumber Reporter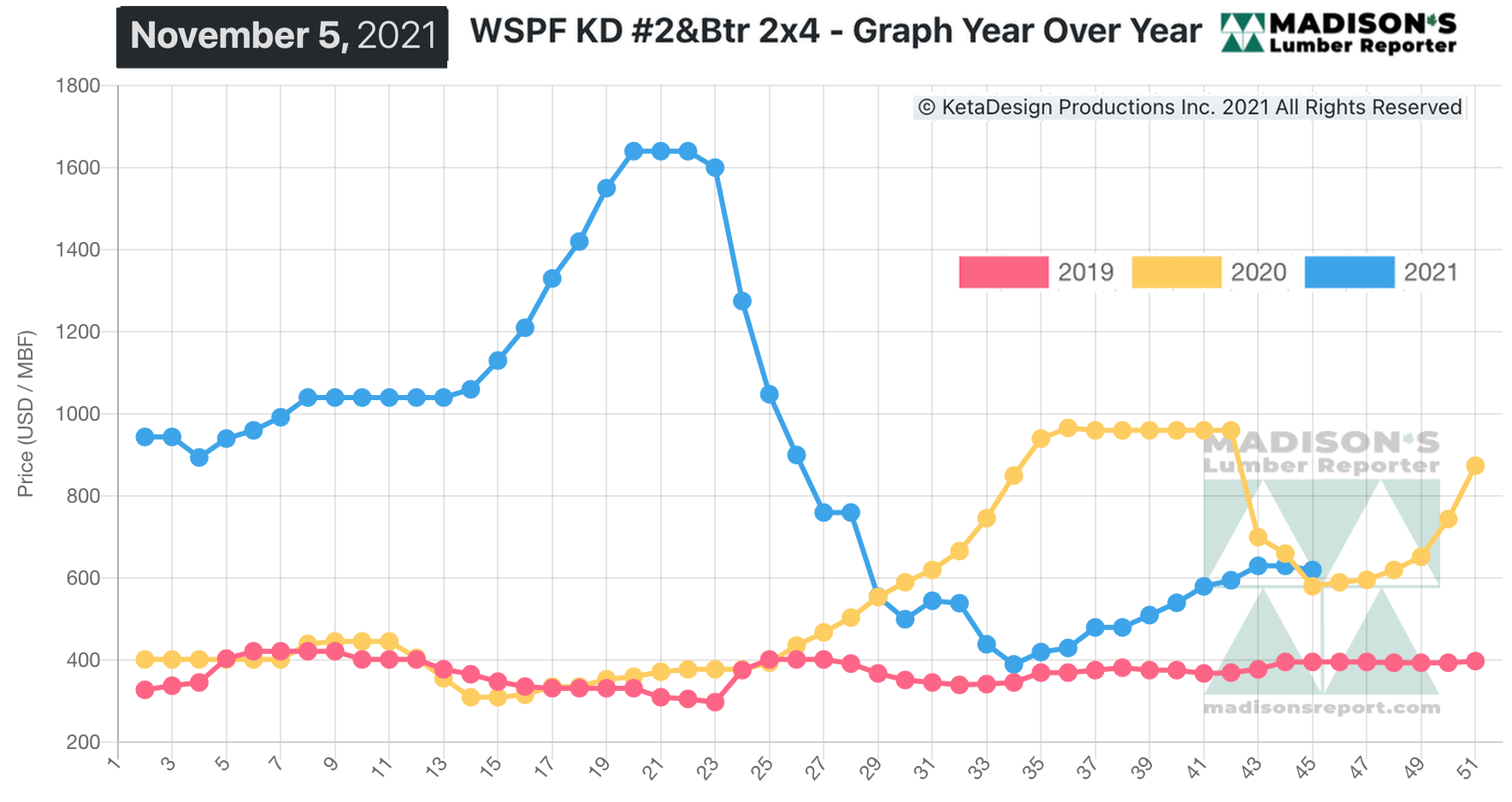 After consistent – if moderate – climbs in September and October, most benchmark construction framing dimension softwood lumber prices have levelled off to match were they were one year ago, said weekly industry price guide Madison's Lumber Reporter. In many ways the market dynamics are the same: constrained supply against ongoing strong demand, serious ongoing problems with transportation, difficulty finding workers, and unseasonal strong construction activity. In other ways the lumber market this year differs from 2020. One thing is the same though: this very week is the North American Wholesale Lumbermen's Association annual meeting, where sawmills and wholesalers from across Canada and the US meet. Much clarity will be decided between players during this important event; Madison's will update readers on the results of that.
Staying flat for the first time in many weeks, for the week ending November 5, 2021, the price of Western S-P-F 2×4 #2&Btr KD (RL) was US$620 mfbm. This is down by -$10, or -2%, from the previous week when it was $630.
Large sawmills in British Columbia mostly held firm on pricing thanks to strong three- to four-week order files.
"As November kicked off, demand for lumber and studs ebbed noticeably while flat pricing persisted in panels." – Madison's Lumber Reporter
Suppliers of Western S-P-F lumber and studs in the US reported muted demand to start the month of November. Asking prices remained firm from most sawmills, but cracks were starting to show among smaller producers who had weaker order file positions. Average lead times were apparently two- to three-weeks out.
Demand for Western S-P-F commodities in Canada sagged as November kicked off, with a much more cautious tone from buyers compared to October. Availability appeared to be improving, making customers tentative and more apt to draw from secondary suppliers who could offer quicker shipment. For their part, smaller producers with less solid bookings were open to lower numbers to keep fibre flowing from their yards.
"This week began with unhurried demand for Eastern S-P-F as buyers restrained themselves and pricing appeared vulnerable. Sawmills were aggressive sellers and voiced their eagerness to ship more. A dearth of drivers and other personnel caused severe transportation bottlenecks. Around midweek sales activity did perk back up in response to lower prices." – Madison's Lumber Reporter
Madison's Benchmark Top-Six Softwood Lumber and Panel Prices: Monthly Averages
For the week ending November 5, 2021 the price of Western S-P-F 2×4 #2&Btr KD (RL)  is up by +$11, or +2%, from one month ago when it was US$609 mfbm.
When compared to the same week last year, when it was $580, this week's price is up by +$40, or +7%. Compared to two years' ago when it was $396, this week's price is up by +$224, or +57%.
---
Print this page