June 25, 2020 By CFI Staff
Canadian Forest Industries Magazine shares the latest dust collection and suppression equipment on the market in 2020.
Airmax Air Purification Systems
Airmax Systems is Western Canada's distributor for SonicAire fans. SonicAire fans keep pellet plants and sawmills in compliance with OSHA and NFPA regulations consistently by preventing overhead combustible dust accumulating in the facility. With an engineered plan in place, employees enjoy a cleaner, healthier and safer work environment while protecting the mill from the risk of fire and explosion. New improvements to the SonicAire fan line-up include the new Pro and Extreme series fans. All new for 2020 is a redesigned fan that is quieter and more powerful. The Extreme series has been redesigned with the same features as the Pro series and is designed for Class II Division 2 hazardous areas. www.airmaxsystems.ca
Rembe
Innovative technology makes it possible to divert combustible dust explosion shock waves and flames in a controlled manner so the required safety area is reduced, valuable usable area is increased and personnel/equipment are protected from the explosion's effects. Explosion vents are an economical form of explosion pressure relief but require extensive safety areas that become unusable space. Rembe's Targo-Vent is an opening angle limiter developed especially for Rembe explosion vents. Targo-Vent guides pressure relief into areas where there is no danger to infrastructure or personnel. Targo-Vent absorbs the enormous repulsive forces of explosion energy and guides the flames/shock wave in the desired direction so usable area is increased. www.rembe.us
IEP Technologies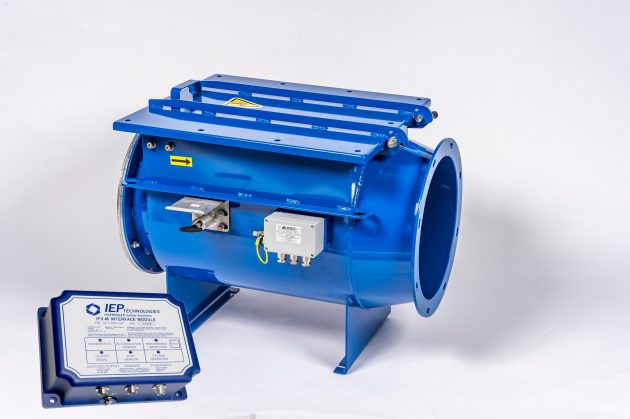 The SmartDS Dynamic Explosion Detector System by IEP Technologies is designed for demanding process applications requiring leading edge rate-of-rise explosion pressure sensing. Its unique ability to analyze rate of pressure rise and differentiate it from non-explosion pressure provides maximum explosion protection with minimal false alarms. Typical applications include dust collectors, drying systems, pneumatic conveying systems and reaction vessels. The SmartDS is designed as part of an explosion suppression system, installed and serviced by experienced IEP Technologies engineers and technicians throughout the world. www.IEPTechnologies.com
Fike
When an ignition source such as an ember from a dryer or smoldering material from a conveyor reaches a biomass dust collection system, a devastating explosion may occur. Fike's NFPA- and ATEX-certified explosion suppression systems are designed to both detect and chemically suppress these deflagrations in their earliest stages, all within just hundreds of milliseconds. These systems also weaken the deflagration into interconnected pipes and vessels, which supports accompanying explosion isolation systems installed on the dust collector's inlet. Fike's patented container and nozzle design minimize flow restrictions and maximize speed because every millisecond counts when suppressing a dust explosion.
BossTek 
As effective dust control continues to gain priority in biomass handling, one equipment design has been engineered to provide an unmatched level of mobility and performance. With a throw of 200 feet (60 meters), the DustBoss DB-60 features an adjustable elevation angle and user-defined oscillation for precise aiming of a powerful dust-capturing mist, comprised of millions of droplets per minute 50-200 microns in size – proven to be the most efficient size for most project needs. The direct drive motor and 30,000 cubic feet per minute (CFM) fan deliver up to 125,000 square feet of coverage area – more than two American football fields.  www.bosstek.com
Airex Industries
A great many people working in industrial companies are exposed to various airborne contaminants. When leaving their stations, those workers must inevitably dust off before moving to a clean area. As such, they will undergo a decontamination process between every break and shift change; otherwise they would contaminate the rest areas, meal areas and change rooms. The DASHX series air shower developed by Airex Industries provides workers with the ability to clean themselves independently, quickly and efficiently. Also, this booth is able to capture even the finest particulates during the dust-removal cycle. The particulates are then eliminated from the work environment rather than just moved.
Baum Pneumatics
This explosion isolator from Baum Pneumatics is bolted to a stand with a high-pressure pneumatic conveying tee-injector system. Other identical isolators are used as airlocks only, under low pressure cyclones or bag houses. Isolators are very heavy-duty pieces of equipment, built with industry-standard top and bottom flanges. The dimensions of Baum Pneumatic isolators are interchangeable with common chip feeders, and all of the isolators are rebuild-able. Baum Pneumatics builds isolators to NFPA 69 specifications and stocks two sizes, 20×25 inches and 25×35 inches, as bare shaft units in Port Coquitlam, B.C. Drives can be added according to customer's requirements and voltage. New chip feeders are also available, and customers' feeders can be rebuilt to order. www.baumpneumatics.ca
ACS Systems
Advanced Cyclone Systems (ACS) is a company exclusively dedicated to the development of high efficiency cyclone systems, worldwide. With our local representation, we have several projects for biomass combustion emission control currently working successfully in Canada. ACS Systems' wide range of cyclones can work to cut down emissions to 150, 100, 70 and even 30 milligrams per cubic metre (mg/Rm3), complying with even the strictest regulations. On applications like wood rotary dryers, hurricane cyclones are an alternative for wet electorstatic precipitators (WESPs).
www.advancedcyclonesystems.com
CV Technology
The Interceptor-HRD explosion suppression system is designed to provide an active method to protect process equipment from a dust explosion hazard. The principle of operation for the Interceptor-HRD system is timely detection of the pressure rise during the initial stage of an explosion, followed by fast injection of an extinguishing agent. Each Interceptor-HRD bottle includes a low-pressure monitoring switch, Occupational Safety and Health Administration (OSHA) lockout, and a telescopic nozzle as standard features. Chemical suppression systems are designed for use in almost any process handling combustible dust including pneumatic conveying systems, dust collection systems, cyclones, mills, dryers, conveyors, and storage vessels. www.cvtechnology.com
Scientific Dust Collectors
Since 1981, Scientific Dust Collectors has offered the industry a complete line of baghouse and cartridge collectors with special design features – most notably, a patented high-velocity nozzle cleaning system. This patented system induces a greater amount of cleaning air that gently cleans the bags versus a flow restrictive venturi-based system that violently shocks the bags, and thus decreases the filter life. By eliminating the flow restrictive venturi, Scientific Dust Collectors lowers the system pressure drop, thus the system uses less energy for the system fan. In the wood industry, Scientific Dust Collectors is able to offer a four-year filter life guarantee.
www.scientificdustcollectors.com
Firefly
In biomass plants, fires and explosions occur due to sparks originating from the process. Installing a Firefly Spark Detection & Extinguishing System safeguards against hazards before a fire or dust explosion occurs. Firefly uses dual eye detectors with a 180-degree angle view. The detectors have TrueIR detection detecting a hot particle or black body at temperatures as low as 250 C. Firefly's Power Impact Extinguishing uses a minimum of three nozzles with full cone water spray. Each nozzle has its own solenoid valve with quick release for easy testing outside the process. Firefly Spark Detection & Extinguishing Systems are FM-approved.  www.firefly.se
VETS Sheet Metal
VETS Sheet Metal was founded in 1921 by a World War I veteran and has nearly 100 years of HVAC experience. The company completes projects in industrial, light industrial and institutional HVAC capacities with a specialization in dust collection and pneumatic conveying. Every application requires a unique approach to the development and implementation of a dust system.  Whether the best tool for the job is a traditional cyclone or baghouse or something more unique like a Multi-Cone or Cyclofilter VETS can engineer, design, fabricate and install a system that meets or exceeds your plant's safety and environmental requirements. www.vetsgroup.com 
---
[This article is part of our 2020 Dust Safety Week coverage. Find more articles here.]
---
Print this page