New Gear Harvesting New Gear
Morbark debuts articulated wheel loader, stump cutter at TCI Expo
November 18, 2019 By Morbark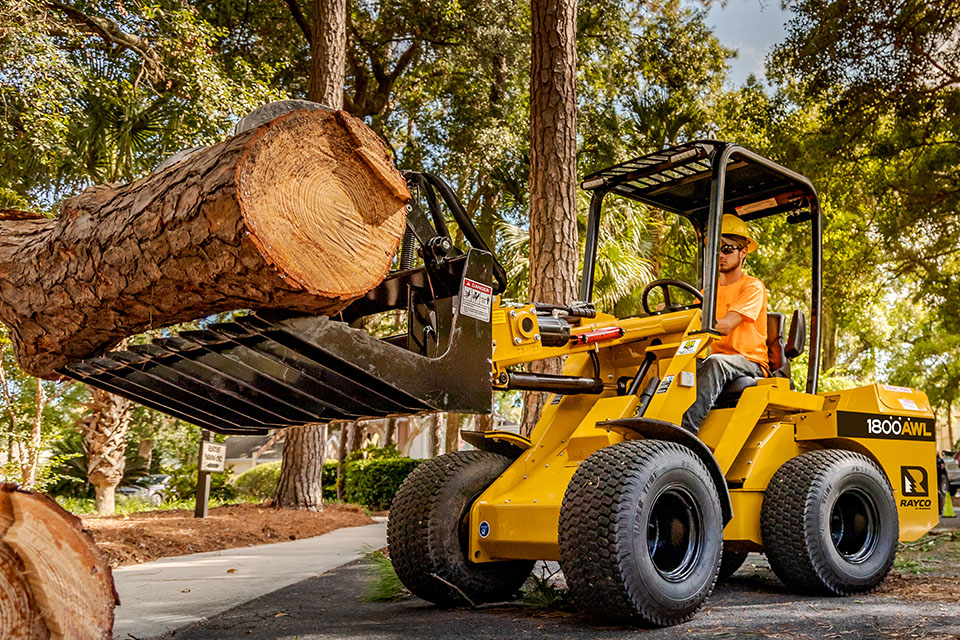 Morbark, LLC, debuted the Rayco 1800AWL Articulated Wheel Loader and RG165T-R Stump Cutter at the TCI Expo in Pittsburgh, Pa., in November. The company also offered a sneak peek at additional equipment within the Morbark and Rayco brands that would be in production within the first six months of 2020.
"At Morbark, we are focused on continually providing new products and product improvements that meet our customers' needs and help them succeed in their businesses," says Casey Gross, Morbark Director of Tree Care Products. "These newest products – the articulated wheel loader and large stump cutter – are direct responses to our customers' requests and feedback."
Rayco 1800AWL Articulated Wheel Loader
Designed to meet the material handling needs of landscape contractors, tree services, rental companies, municipalities, and agricultural businesses, the 1800AWL is the first model of our new AWL line, and is heavy on capabilities and light on delicate landscape surfaces such as grass, building foundations and paving stones. With a standard mini skid steer attachment plate, this articulated wheel loader can accommodate a wide variety of attachments. The quick-attach system enables the user to quickly and easily switch from a bucket to forks or other tools for optimum on-the-job flexibility and bottom-line performance.
The telescoping boom provides excellent dumping and lifting height, enabling loading on high-sided trucks and other applications that require extended reach. The 1800AWL has a maximum lift height (measured at the hinge pin) of 114 inches (289.6 cm). With its 24.8-hp (18.5-kW) Kubota D1105 diesel engine, the 1800AWL generates a working lift capacity of 1,800 lb (816.5 kg).
The small footprint (the 1800AWL is only 50.5″/128.3 cm wide) and articulated loader design give operators the agility they need to maneuver in close quarters, such as small yards or narrow pathways, while the turf tires provide minimal turf disruption when making turns.
Built with operator comfort and safety in mind, the 1800AWL has a low-profile suspension seat in the ROPS/FOPS-certified cab. The open-cab design provides a clear view of the worksite in all directions, and easy-to-use controls make these machines simple for anyone to operate.
Rayco RG165T-R Stump Cutter
The powerful, new Rayco RG165T-R Stump Cutter is ideal for customers who need to remove large stumps in a short time. The 165-hp (123-kW) Ford V8 gasoline engine provides plenty of horsepower and torque allows maximum use of the cutter wheel to get jobs done quickly while meeting emissions requirements without the hassle of complex, diesel after-treatment systems.
The RG165T-R is equipped with non-marking rubber tracks on a retractable undercarriage, allowing it to maneuver in tight areas, such as passing through a 36″ (92 cm) gate, and then widen out to 51″ (130 cm) for stable travel. The unit's propel system features high and low travel speeds. A wide hydraulic backfill blade saves time during clean up and can be folded in easily for passing through gates.
The 28″ (71.1. cm) diameter cutting wheel, equipped with 40 Super Tooth cutter teeth, provides a 72.5″ (184.1 cm) cutting width, with 28″ (71.1 cm) cutting path above and below ground level. The hydrostatic cutter wheel drive is equipped with Rayco's exclusive "Quick Stop" cutter wheel.
The RG165T-R's wireless remote control unit is comfortable and sealed against dust, water and other elements.
Learn more at: www.morbark.com.
---
Print this page