October 9, 2019 By Tigercat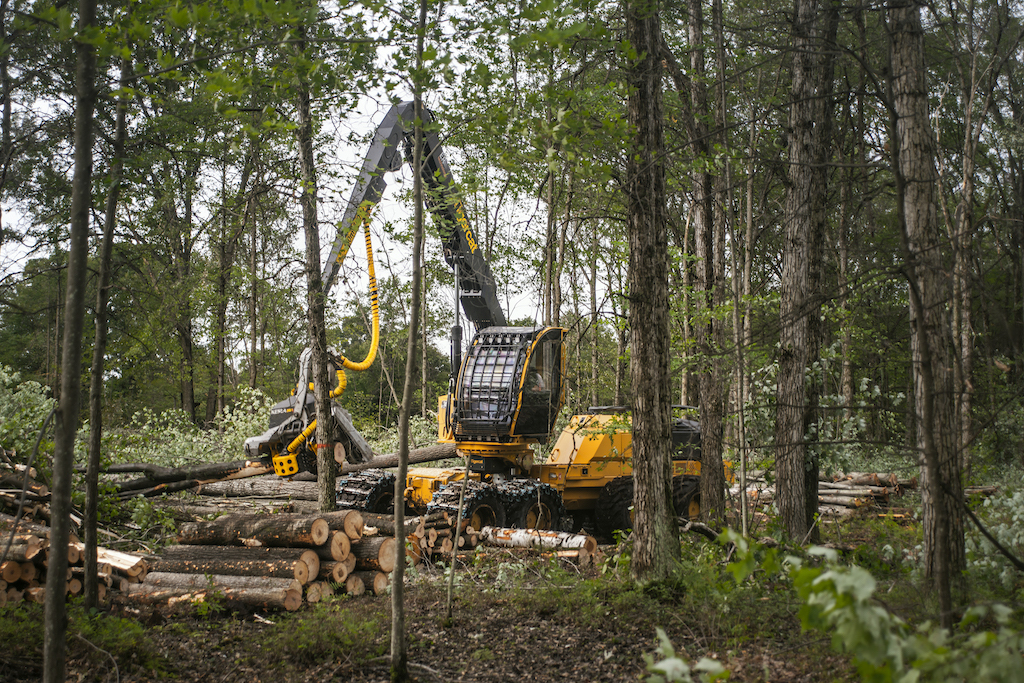 Tigercat has introduced the highly-anticipated 1165 wheel harvester. The 1165 is a mid-sized harvester well suited for thinning, selective cut and final fell applications. With strong swing and levelling capabilities that exceed the competition, the 1165 is well suited for steep slopes. The machine is available in both six-wheel and eight-wheel drive configurations.
Powered by the Tigercat FPT N67 engine, the 1165 provides full emissions compliance for Tier 4 final regions, along with excellent fuel economy, all in a simple and reliable package. Both Tier 4f and Tier 2 options deliver 210 kW (282-hp) at 2,000 rpm.
The 1165 wheel harvester uses the same swing components as the larger 1185, as well as oscillating and articulating centre section components used on Tigercat forwarders. The new active oscillation balancing technology provides unparalleled machine stability even while travelling. This allows crane operation while driving, thus increasing productivity.
The patented long reach ER crane is energy efficient and provides the same action as a parallel crane, but with simplified construction and less maintenance. The nine meter (30 foot) crane comes standard for heads up to 1,600 kilograms (3,530 lbs), and the 11 meter (36 foot) telescopic crane for heads up to 1,100 kilograms (2,425 lbs).
Dedicated attachment and carrier pumps provide ample oil flow for uninterrupted power and multi-functioning capability. Many hydraulic components are common with other Tigercat machines, and efficient hydraulic system design and plumbing help the 1165 deliver exceptional productivity and optimal fuel economy.
Operator visibility is unmatched in the quiet, comfortable, ergonomically designed cab. The hooked crane design and large windows provide a clear line of sight to the attachment's working area and surrounding terrain. The 360-degree continuous swing upper turntable supplies strong swing torque. Levelling capacity is 24 degrees backward, 18 degrees forward and 18 degrees side/side. This, along with tethering lugs built into the frame facilitates steep slope cable assisted harvesting applications.
---
Print this page