RELATED: 2016 Harvesting and processing heads

In this issue of Canadian Forest Industries, we take a look at harvesting and processing heads and give you a rundown of what's available. All of the information was supplied by the manufacturers and after each listing you will find the respective website address where you can find more information. Also, check out our production tips at the end of the listings.
November 4, 2011 By Ken Donald and Carl Tingley
AFM
Hakmet Ltd. in Grenville, Que., is the new North American distributor for AFM-Forest harvester/processor heads. AFM manufactures 12 harvester/processor heads, two combi heads, an energywood head and a felling head. With the combi head you can harvest, process, sort and load logs with just one head and base machine.
The AFM heads are designed for demanding operations with low maintenance costs due to the use of reliable and universal components. AFM heads work with all harvester bases and most measuring systems with solutions for softwood and hardwood species for harvesting or processing. Feeding speeds up to 20 feet/second result in high production. The heads feature high-strength steel delimbing knives and an exceptional three-roller, non-sliding feeding system with proportional pressure on roller arms and knives to reduce fibre damage. Timber-friendly steel rollers conserve the quality and structure of the timber. Accurate measuring is accomplished by constantly centering the stem and the diameter. Simple and long-lasting block-type hydraulics are well protected and centrally located. The heads are easy to install and service due to simple, service-friendly construction. Installation and training support is available.
www.hakmet.com
Arbro
Arbro-Stroke 400 and 1000 are stroke harvesters, which fell, delimb and cut trees to length. The Arbro-Stroke 400 is meant for thinning operations and offers a lot of delimbing power. Arbro-Stroke can easily be connected and disconnected on the rotator of the loader. And most common farm tractors have enough hydraulic power to operate the Arbro-Stroke 400. The harvester comes with an accurate measuring device as standard equipment and can be programmed for various pre-selected lengths with diameter measuring optional. The harvester is equipped with a reliable Volvo saw motor. The cutter bar is available in either 14 inches or 16 in. for model 400 and 20 in. for model 1000. The harvester head is easy to operate with an automatic stroke, and the tree can be delimbed with a one-button function. The delimbing knives and grip arms can be opened separately.
www.hakmet.com
Caterpillar
Caterpillar Forest Products offers harvester heads built especially for the North American logger. They feature a user-friendly computer system that allows the operator to cut more wood and worry less about computer settings. The PF-48 fixed head offers a one-of-a-kind four-roller design, giving the head more contact with the tree for better feeding. The valve body is mounted on the carrier, not the head, reducing shock loads. Two measuring systems — roller measurement and an independent measuring device — allow the operator to select the best method for the application. Designed specifically for Caterpillar's wheel and small track harvesters, the PE-44 works best in medium-sized softwoods or mixed stands with smaller hardwoods. Its computer system offers extras, including production recording and proportional pressures on both the knives and feed rollers.
www.prenticeforestry.com
Keto
Quadco is the exclusive distributor for Keto heads in both North and South America. Keto offers five models – K51, K100, K150, K660TS and K879TS. All Keto heads feature a unique track feeding system, offering excellent grip on logs and better accuracy for measuring. Their lightweight robust design cannot be overlooked.
www.quadco.com
Komatsu
Komatsu's harvesting heads lineup includes the light and fast 350.1 (23.6-in. cut, 2,116-lb.) and 360.2 (25.5-in.-cut, 2,745-lb.) heads. The 350.1 has three-driven rollers and is available with multi-stem accumulator for first thinning and biomass. The light, three-roller drive 365 model (25.6-in. cut, 2,646 lb.) is suited for longer reach thinning. The 370.2 (27.6-in. cut, 3,240 lb.) is designed for second thinning and larger harvesting jobs. The 370E (27.6-in. cut, 3,527 lb.) has a heavier frame for merchandising, high production harvesting or difficult applications. Komatsu heads are controlled by the new MaxiXplorer head control system for track machines. Maxi provides highly accurate measuring and records all harvest data. Heads are also available with colour marking and a fungus stump treatment system with head-mounted spray bars.
www.komatsuforest.ca
Log Max
Offering nine models of harvesting heads, the Log Max product line includes the 928, 4000B, 5000D, 6000, E6 (specifically developed for the Eucalyptus market ), 7000C, 7000 XT, 10000 XT and the 12000.
Providing the customer with flexibility and productivity, each Log Max harvester head is available with a variety of options that allow it to be customized to the specific requirements of each job.
All Log Max heads feature a patented top knife positioning sensor to minimize friction losses and improve feeding efficiency. Because of this, Log Max heads maintain extremely high feed forces. As well, all frames are designed with an efficient closed box section central frame. The tapered knives are equipped with long edges, which ensure high-quality timber.
Log Max also offers accumulating arms, which enables the head to be used as a conventional harvester or a multi-stemming head. The Log Max interface gives customers the option to replace their existing head with a Log Max product while continuing to use their original computer system to control the new head.
www.logmax.com
Logset
Logset's Titan head (TH) line is based on a production concept that features three feeding rollers, which are driven by four hydraulic motors. This design allows the heads to surround the stem and achieve maximum feeding grip, which results in an extremely fast feed speed.
Due to the short height and high speed of the Logset TH heads, logs are efficiently delimbed – even the most difficult trees. The latest lineup of Titan heads, which include the TH45, TH65 and TH75, are the result of Logset's years of experience, continuous product improvements and implementation of the latest technology. For the complete lineup of Titan heads and other Logset equipment, visit the Logset website.
www.logset.com
Pierce Pacific
The Titan 22 from Pierce Pacific is ready to harvest at the stump or process from a log deck. The Titan 22 features an additional valve section providing more flow to the drive system for greater speed and feed power, as well as to the butt saw for faster, cleaner cuts. It also features a heavy-duty frame designed to provide extra support where it's necessary for the rigours of North American timber and conditions. As with all of the Pierce and Denharco processing equipment, the Titan family is powered by Pierce's Intellitec Measuring System.

Pierce, independently owned and operated, builds all of its products in Portland, Ore., and has three service parts warehouses in North America. Its product support and customer service includes onsite training and troubleshooting, stocked warehouses, after-hours pickup and emergency overnight delivery.
www.piercepacific.com
Ponsse
The new PONSSE H5 harvester head is especially suited for thinning with special attention paid to fast handling of difficult trees and smooth multi-stemming. The large opening, long delimbing knives and the correctly placed wide top feed roller intensify thinning of single trees as well as collecting trunks during multi-stemming. The fast yet economical feed and cutting give high productivity under all operating conditions. Multi-stemming is performed efficiently without the need for optional equipment, which would only increase the weight as well as the need for maintenance. This way the crane capacity and reach, and the stability of the base machine, can be utilized fully for the handling of trees.

Ponsse's new harvester head line now features H5, H6, H7 and H8 heads for different tree sizes and base machines.
www.ponsse.com
Quadco
Quadco offers a full line of felling and harvesting heads with five different product lines to answer your needs and applications. HIGHSPEED heads are available in 18-in., 20-in., 22-in., and 24-in. maximum cut capacity. Intermittent models range from 24-in. to 29-in. maximum cut capacity. All models of felling heads come with the Quad Tooth System and are available with 40 or 360 degrees rotation.

Controlled-fall 5660 Harvesters provide a maximum capacity of up to 24-in. cut and 22-in. processing. A swing saw comes standard on this model, designed for CTL/TL harvesting and roadside processing.
www.quadco.com
Risley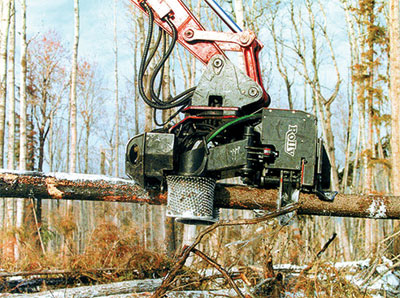 The Rolly II harvesting head is at home in virtually any timber type. With a maximum opening of 28 in. and single cut capacity of 24 in., it can handle larger diameter stems. The controlled fell function is unique in that the operator can place the head into a floating mode that allows the head to free-fall with the tree and follow the stem around crooks while feeding. The Rolly II is configurable to fit many needs with options such as High Torque Rotosaw or Bar & Chain, accumulating arms or grab arms, feed wheel options, and rotate options. Improvements include wider teeth on the measure wheel, stronger roll arms and a new heavy-duty rotate bracket to name a few.
www.risleyequipment.com
Rotobec

Rotobec manufactures a wide range of forestry attachments including log grapples and combination grapple saws in two different sizes. Rotobec also manufactures live heels and dead heels. Whether its feeding a grinder, handling logs or pulpwood, Rotobec has your application covered.
www.rotobec.com
SP Maskiner AB
Rottne Canada Inc. is the new Canadian dealer for Swedish harvesting head manufacturer SP Maskiner AB. Founded in 1978, SP has been developing, manufacturing and selling harvester heads for over three decades.

Moncton, N.B.-based Rottne Canada signed an agreement with SP for the Canadian distribution of its products in late June. SP started developing its latest harvesting head products in 2006, and in 2007 introduced its SP 591 LX harvester head, which was primarily designed to harvest and debark plantation eucalyptus. Next in line was the SP 561 LF, which was designed primarily for wheel-based machines in thinning applications.
This fall, SP expects to release its latest harvester model, the SP 661 LF HD. Weighing in at 1,600 kilograms, the new high-performance, productive and reliable head will be a good match for many Canadian applications. The head, which will have a maximum cutting diameter of 75 centimetres (29.5 in.), will be available in two versions.
www.rottnecanada.com
www.spmaskiner.se
Tigercat
The Tigercat TH575 harvesting head is specifically designed to match the high performance capabilities of the Tigercat track carriers in harvesting, processing and debarking applications. It is best suited to dedicated forestry carriers from 200 to 300 horsepower for harvesting softwood and hardwood in the 500- to 580-cm-diameter range. Several TH575 heads are working on 200 to 290 sized forestry-type excavators and showing superior performance on entry-level, lower-hp machines used for roadside processing.

The TH575 has a heavy-duty boxed steel structure for high-duty cycles. Taper-lock pins, isolation mounted high-flow valve assemblies, clean hose routings, larger feed roll motors and auto-tension for all main and top saw options provide high uptime and long service life.
The patented three-wheel drive system automatically switches between three-wheel and two-wheel drive to optimize traction, feeding power and speed. This maintains processing efficiency in small trees without sacrificing big tree feeding performance. Debarking efficiency is also improved, providing superior bark removal in difficult species with fewer back-and-forth feeding cycles. The independent feed wheel arms and larger feed wheels provide superior tree grip, further enhancing performance.
www.tigercat.com
Waratah
Waratah says they are known for two things: their tough-as-nails products and their in-the-trenches customer service. The latest additions to the Waratah lineup are no exceptions to either attribute. The new 616 C model comes standard with topping saw, the SC 100 Supercut main saw unit, a new higher flow valve producing increased speed over the drive wheels and saw units, and a new hanging bracket and rotator design shared from the 622B. The new HTH 623 C model was specifically designed around the 250 class carrier, providing big wood capacity fitted to smaller middle weight 250 class carrier. Sharing the same new valve design with the 616C, the result is increased flow to the much larger drive motors and ¾ saw unit, which provides 624 size feed power and limbing torque in a mid-size 623 C body. Standard ¾ saw units and 624 size motors enable the 623C to be a true big wood processor for applications ranging from hardwoods to coastal softwoods.

Waratah heads come only one way . . . fully optioned, allowing customers the best return and flexibility on their investments. The 624C and the Waratah flagship model 622B remain unchanged for 2011.
www.waratah.net
Tips for Improving Performance and Production from Your Head
There's lots of great equipment on the market, but knowing how to get the most out of it takes experience and skill. We asked Forest Liaison Inc., a forest operations training company associated with LogMax for some tips on how to get the most from your harvesting/processing heads. Forest Liaison manager Ken Donald and account manager Carl Tingley responded.
Bars and chains – one of the most important but often overlooked components to maximize performance and production is the maintenance of bars and chains. Carefully following the manufacturer's chain/bar maintenance recommendations for sharpening angle and depth gauge is only the first step. Proper grinder setup and proper grinding technique are a must. Lubrication is also essential – cleaning and maintaining the bar properly each time you change a chain will guarantee performance and long life for the chain and bar components and proper lubrication and storage of sharpened chains ensures you will have a chain that is ready to perform when installed.
Knives – The knives on your head perform all of the delimbing tasks. Having sharp knives directly results in better delimbing quality but also allows the head to perform its work more easily. Sharp knives also allow for the lowest possible feeding pressure, resulting in faster delimbing speeds, less wear to the head components and longer structural life for the frame. Always follow manufacturer's recommendations for maintenance of your knives.
Hydraulic pressures – Just as your body should have a doctor's checkup each year, so should your harvesting head. The hydraulic pressures of a harvester head should be checked at least once a year by a qualified person who can adjust pressures to the suggested manufacturer's setting to provide optimum performance and maximum production.
Once the pressures are set, the head function settings in the control system should be set for each operator's abilities and optimum performance of the head. Knife, saw, feed roller, tilt and many other functions and features can be set to assist an operator in performing automated tasks and reduce operator fatigue, which in turn can improve production.
Don't forget those bolts and washers that hold your head together and keep the guards in place. Checking the torque in accordance to the manufacturer's manual is important, especially for major components that bolt to the frame such as saw motor, feed roller motors and rotators. But don't forget the bolts on your head that work harder than the rest are those that hold your feed wheel to the motor. Just like the wheel on your pickup, it can ruin your day pretty quickly if it comes loose and destroys the wheel, studs and possibly the wheel-mounting surface on the motor. Checking these often can save much grief.
Operator Performance
Now that your harvester head is ready to perform, how about you? As an operator of a harvesting head, your brain must shift to high focus mode to enable you to multifunction efficiently and effectively. There is a lot going on around you, including felling, delimbing and cutting to length, and all in the same process.
So the first step in harvesting is to plan which tree is to be cut and where to pile it. Once the tree is cut off the stump, you need to know where you are going to direct it and how you are going to pile most efficiently in order to produce the required volume of timber. Remember that a good operator will typically harvest one to two trees per minute, so every second lost really adds up at the end of the day. Good planning goes a long way in being successful.
Once you have your road map in front of you (your plan of attack, you might say), it is time to get the routine of cutting trees down to a science. You want the machine to move smoothly and efficiently when working through hundreds of tree cycles each day. Smooth operators that make every move count will work more productive hours without breakdown.
You can think of it like this: if operator "A" cuts 120 trees per hour (east coast stand) and he loses 10 hours a week due to busted/loose hoses, bent bars/damaged chains or other minor mishaps that cost time to repair, this would equal 120 trees/hour x 10 hours = 1,200 trees per week. If your total potential was 40 hours x 120 trees/hour = 4,800 trees – 1,200 trees = 3,600 trees net production.
A smooth/careful operator "B" only needs to cut 40 hours / 3,600 trees = 90 trees/hour to equal the production of the operator "A" who can cut 120 trees/hour when operational. The fast but not so smooth operator "A" with the added wear and tear over the long haul and the added daily cost for hose, fittings, oil, bars, chains, etc., does not add up to success. The hours per week may differ from your operation but the formula is the same, smooth and efficient operators can often get to a higher level of production and your machine is going to be more productive with less costs for years to come.
Other Factors
Then there is the UNMERCHANTABLE TREE factor. Just as things were getting off to a smooth start and your planning was coming together, one of the most contrary, difficult to deal with and unproductive characters shows up, "the unmerchantable tree," or UMT, and he brings along all of his friends too. All jokes aside, unmerchantable trees can significantly reduce production through lost time. They can also cause problems such as hose failure, break fitting, damage to the saw chain/bar and other related issues. Learning how to properly manage unmerchantable trees can make the difference between being profitable or not in stands with a higher density of UMTs. There have been many techniques developed over the years and most are effective to keep your production on track.
Handoff to the forwarder may not be important to you, but it sure is the focal point of the forwarder operator's daily life. It's all about balance, depending on if you are being paid to deliver to roadside or paid a rate for the individual machines. The bottom line is just that –"your bottom line." Restricting the harvester's abilities in order to do the perfect job for the forwarder will only reduce your overall production if the forwarder is able to forward the wood faster than the harvester.
Now we get down to things that affect the operator's ability to perform such as terrain, weather, stand density/species or other such things. Unfortunately, some things are out of your control, unless you think you can control the weather. The best rule of thumb is to always work safe and try to be steady and productive.
---
Print this page